macOS 14 Sonoma Rendering Bug
Update, 25th October 2023: Apple released a fix for this bug in macOS Sonoma 14.1, which is now available.

Please update to macOS 14.1 and Alfred 5.1.4 for best support on Sonoma.
There is a rendering bug in macOS Sonoma, which randomly renders Alfred's default results in the wrong location. We have filed this bug with Apple (Feedback reference FB13188204).
If you're using macOS Sonoma, please ensure you're using Alfred 5.1.3+.
You may not encounter this rendering issue, or may only see it occasionally, and this bug doesn't otherwise affect Alfred's normal operation. All search functionality and features are stable and work as expected in Sonoma.
A Workaround For the Rendering Bug
If Alfred's results positioning appears quirky, open Alfred's Preferences to the General tab where you'll find a box in the top right about the Sonoma issue. Checking the "Default Results Fixed Size" will make Alfred's search results appear at a fixed size, which works around the issue.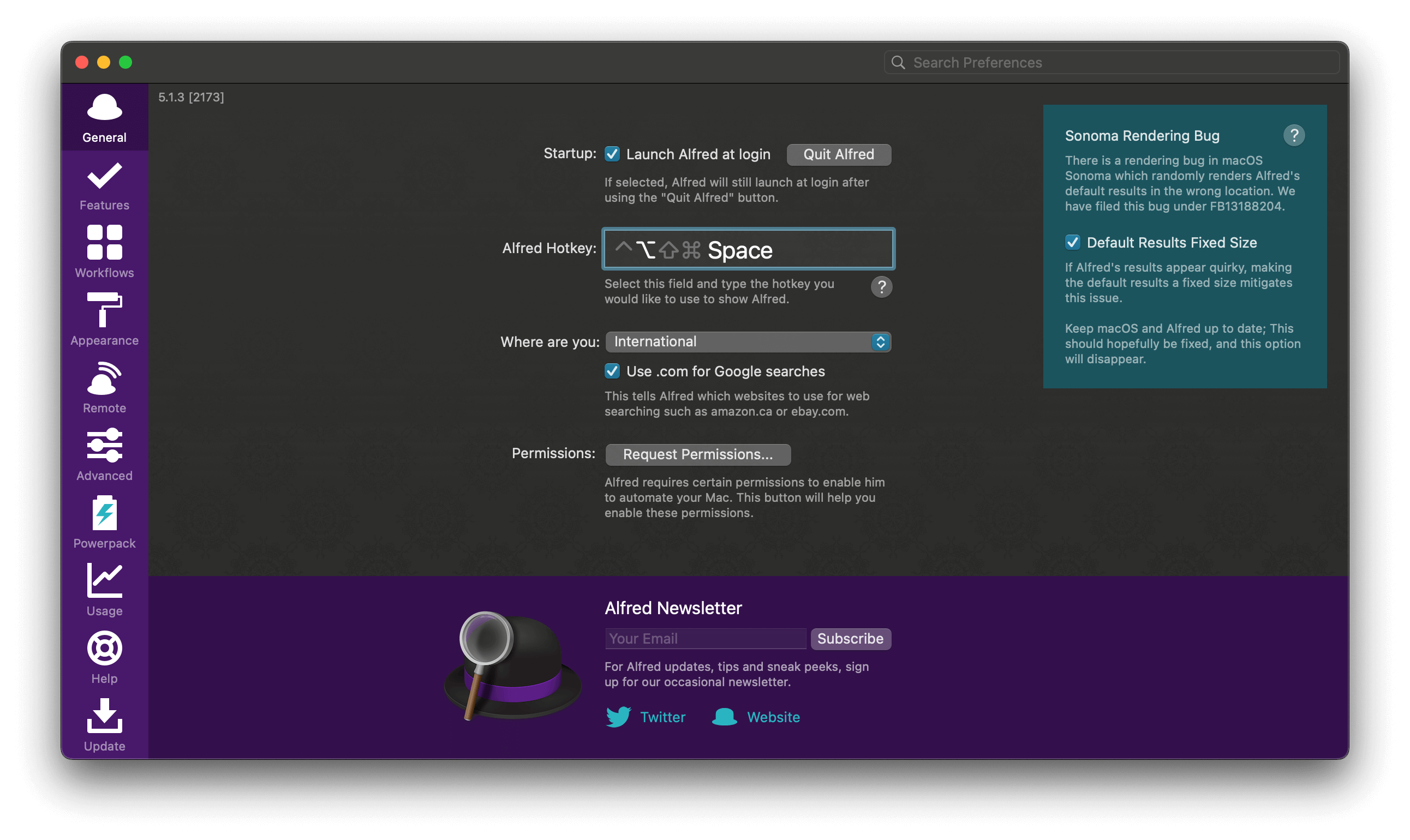 Once the rendering issue is fixed in macOS Sonoma, this temporary option will disappear, and Alfred's results will return to normal.
Using Alfred 4 on Sonoma
We recommend using Alfred 5 on Sonoma, as it provides the best support for current macOS features, as well as the workaround for the rendering issue.
You may experience the same rendering issue if you choose to use Alfred 4 on Sonoma, and this will be resolved when Apple releases a fix.
This page was last updated on Friday 22nd September, 2023. The issue is still present as of macOS 14 Release Candidate 2 (build 23A344).