Getting Started with Alfred 5 for Mac
Ready to get started with Alfred? You'll enjoy a whole new level of productivity!
Already familiar with Alfred? Our Guides and Tutorials can help take your Alfred skills up a notch.
1. Install Alfred 5
If you haven't yet installed Alfred, download the free version from our website and install it on your Mac.
If you've already got Alfred 5 on your Mac, there's no need to download or install a different application to use the Powerpack.
2. Activate your Powerpack license
To activate the Powerpack, you'll need to have a current version license. You can purchase a new license or upgrade your existing license.
With your license at hand, launch Alfred's preferences and click on the "Powerpack" tab.
Click the "Activate your Powerpack" button in the centre and enter the license details you received by email when you purchased.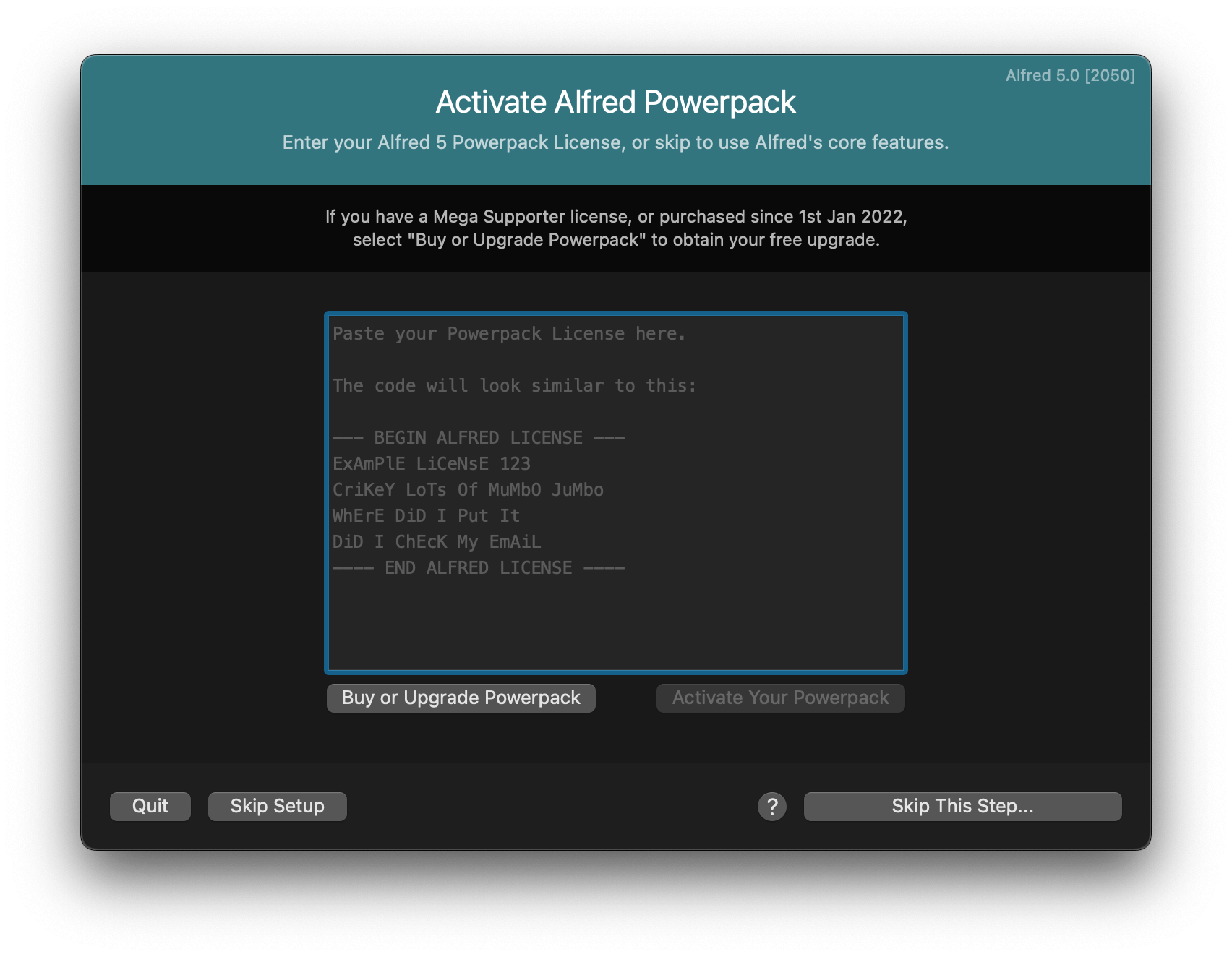 Upgrading from an earlier version of Alfred? Find out how you can migrate your preferences.
3. Grant Alfred Permissions
In order to perform certain actions on your Mac, Alfred will require various permissions. This allows Alfred to simulate key combinations, perform text replacement when using snippet keywords, as well as showing Contacts and Bookmarks in your search results.
Alfred will ask for permissions when you first launch Alfred 5, but you can also find a quick-access "Request Permissions..." button in Alfred 5's General Permissions.
Find out more about granting Alfred permissions.
4. Discover Alfred's key features
New to Alfred? Take a look at our guide to your first 5 minutes with Alfred to see how you can be more productive by searching your Mac and the web more efficiently.
The Powerpack features
We've also created a Starter Guide to Alfred's Powerpack features to introduce you to some of the key Powerpack features that are now available to you.
Beyond this, the Features section in Alfred's preferences will walk you through most features, allowing you to set your custom preferences and discover the essential hotkeys as you go.
Tip: Every section of Alfred's Preferences includes a question mark icon; Click it to be taken to the relevant page and find out more about the feature.
Get Started With Workflows
Workflows will boost your productivity to a whole new level by helping you perform tasks more efficiently and cut down on repetitive manual tasks. Link hotkeys, keywords and actions together to create your own workflows; There's no need to write a single line of code to create a workflow.
Follow the Getting Started Guides to Workflows to be introduced to the Workflow Editor and create your very own first workflow!
Appearance and Theme
Match Alfred to your desktop, your clothes or your mood. Create your own themes by choosing colours, fonts, sizes and more. Show off your design skills and share your themes with friends, and import their themes.
Discover how to customise your own themes and share them with friends.
---
Tips, Tricks and the Latest News
Check the Alfred blog to find out what we're up to, what's new in Alfred and how to make the most of his features!
You'll also find a great community of users on the Alfred forum, where you can share workflows, themes and ideas to be more productive.