Workflows
Use workflows to extend Alfred and get things done in your own way. By replacing manual tasks or mouse-based actions with workflows, you'll boost your productivity.
With the release of Alfred 5, many new features have been added to make workflows more powerful and easier to use.

If you're using an older version of Alfred, you can upgrade to Alfred 5 here.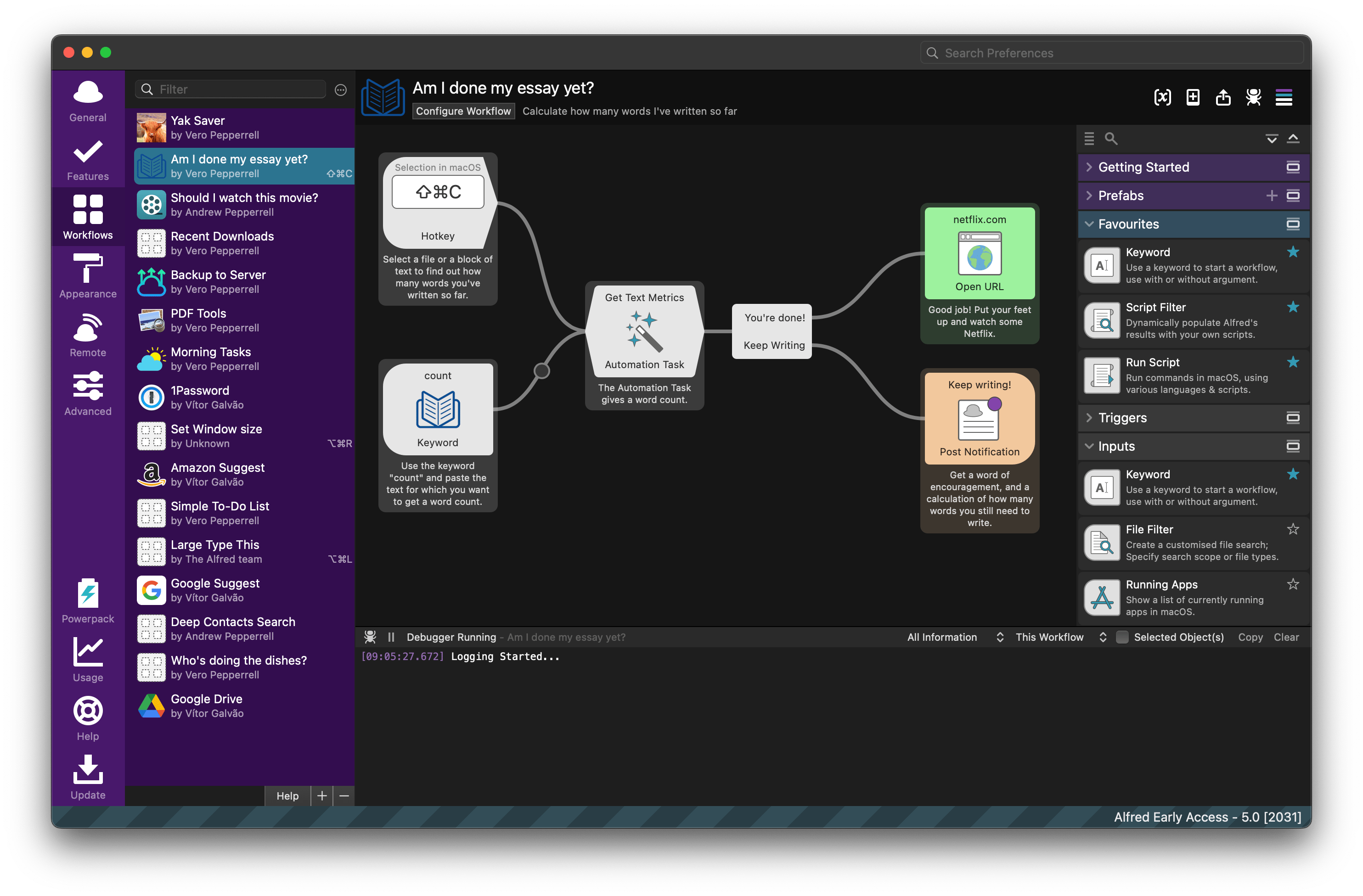 Overview: What are workflows?
Workflows are part of the Powerpack features available in Alfred.
You'll find the Workflows section in Alfred's preferences under the "Workflows" header. Take a look at the topics below to discover how workflows can help you make repetitive tasks a thing of the past, making you more efficient on your Mac in ways you never thought possible!
Tip: Every Workflow object includes a question mark icon in its configuration panel when you double-click the object. Click it to be taken to the relevant page and find out more about that particular object.
Want to jump in right away? Add a few workflows from the built-in "Examples" category to see your first workflows in action! :)
---
Introducing Workflows
---
Discovering Workflows with the Getting Started Guides
New in Alfred 5
When you first navigate to the Workflows section of Alfred preferences, there are no active workflows in the left sidebar.
The best way to discover Workflows is with the Getting Started Guides, which is the third option you'll see in the centre of the Workflow Editor canvas when no workflow is selected.
You can follow along with written companion guides to the Getting Started Guides to Workflows.
Installing new Workflows
You'll find built-in workflows by clicking on the [+] at the bottom of the sidebar; The Getting Started and Examples workflows will introduce you to more workflow features.
The Google Suggest and Amazon Suggest built-in example workflows are incredibly useful to see results in-line.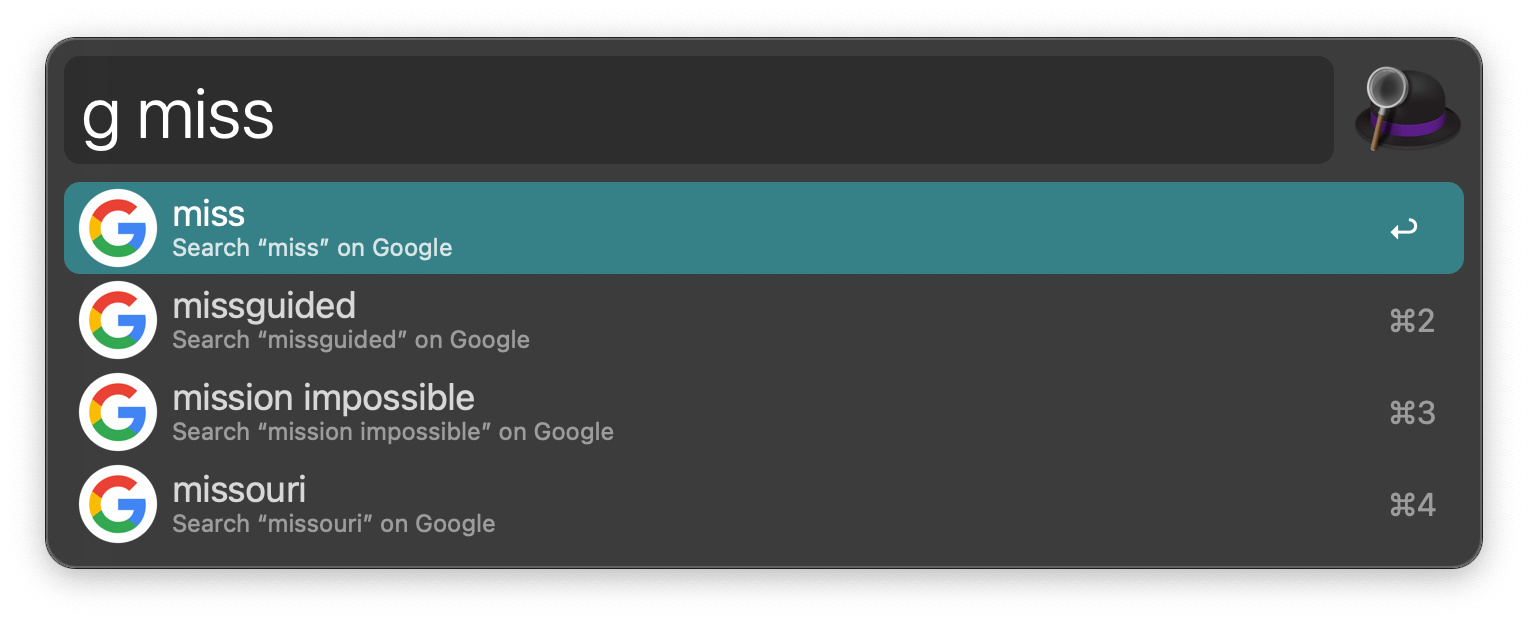 Now that you know how to use workflows and have had a look at the Getting Started and Examples built into Alfred, you'll also find numerous wonderful workflows created by fellow Alfred users.
You'll find excellent workflows here:
Download the file ending in .alfredworkflow and double-click it to add it to your Workflows. Once you've done this, take a look at the keywords pre-set within the workflow, and set your own hotkeys if relevant, to get started with the workflow.
Note: Some of the workflows you find will may been created using older versions of Alfred. These should import and work perfectly in the current version of Alfred as well. Please note that workflows are not always backwards compatible to a previous version.
Creating Your Own Workflows
In Alfred's Workflow Editor, you'll see a few options in the centre of the screen when no workflow is selected. You can create a new blank workflow or start with a template.
Using the Workflow Palette on the right, add
At any time, you can find help on a specific object by clicking the question mark icon in the object's settings in Alfred's Preferences. And most of all, have fun!
---
Workflow object types
To find help on a specific object, navigate to it below, search for it or click the question mark icon in the object's settings in Alfred's Preferences.
---
Making the Most of Workflows
Once you've grasped the basics of workflows, you'll find numerous ways to improve them; From simply organising and sharing them with fellow Alfred users, to using variables and scripts to create an advanced workflow.
Advanced workflow topics
Need help with workflows? Pop by the Alfred forum to chat with fellow creators and find answers to your questions. :)