Using the Powerpack
The Powerpack contains a huge range of features to help you be more productive on your Mac.
To get started, download the free version of Alfred 4 from our website, and buy a new Powerpack license or upgrade an existing license.
If you've already installed Alfred, there's no need to install anything new! Activate your license in the preferences to unlock Alfred's Powerpack features! :) Take a look at what's new in Alfred 4.
Once you're ready to go, take a look at the Getting Started with Powerpack features section below.
Find out how to get started with the Powerpack in more details:
---
How do I activate the Powerpack in Alfred 4?
If you've purchased a Powerpack license, you'll need to enter your code to unlock the Powerpack features. When you complete your purchase, your license is emailed to you so if it hasn't arrived after a few minutes, please check your spam folder and filtered folders.
If you're already using the latest build of Alfred 4, which is free from alfredapp.com, you don't need to download a new different version of the app.
Upgrading from Alfred 3? As soon as you launch it, Alfred 4 will offer to migrate your v3 settings, and you'll be able to enter your Powerpack details. Find more about migrating from Alfred 3.
Alternatively, if you've installed the free version of Alfred 4 and want to enter your Powerpack details later, you can do so on the Powerpack tab.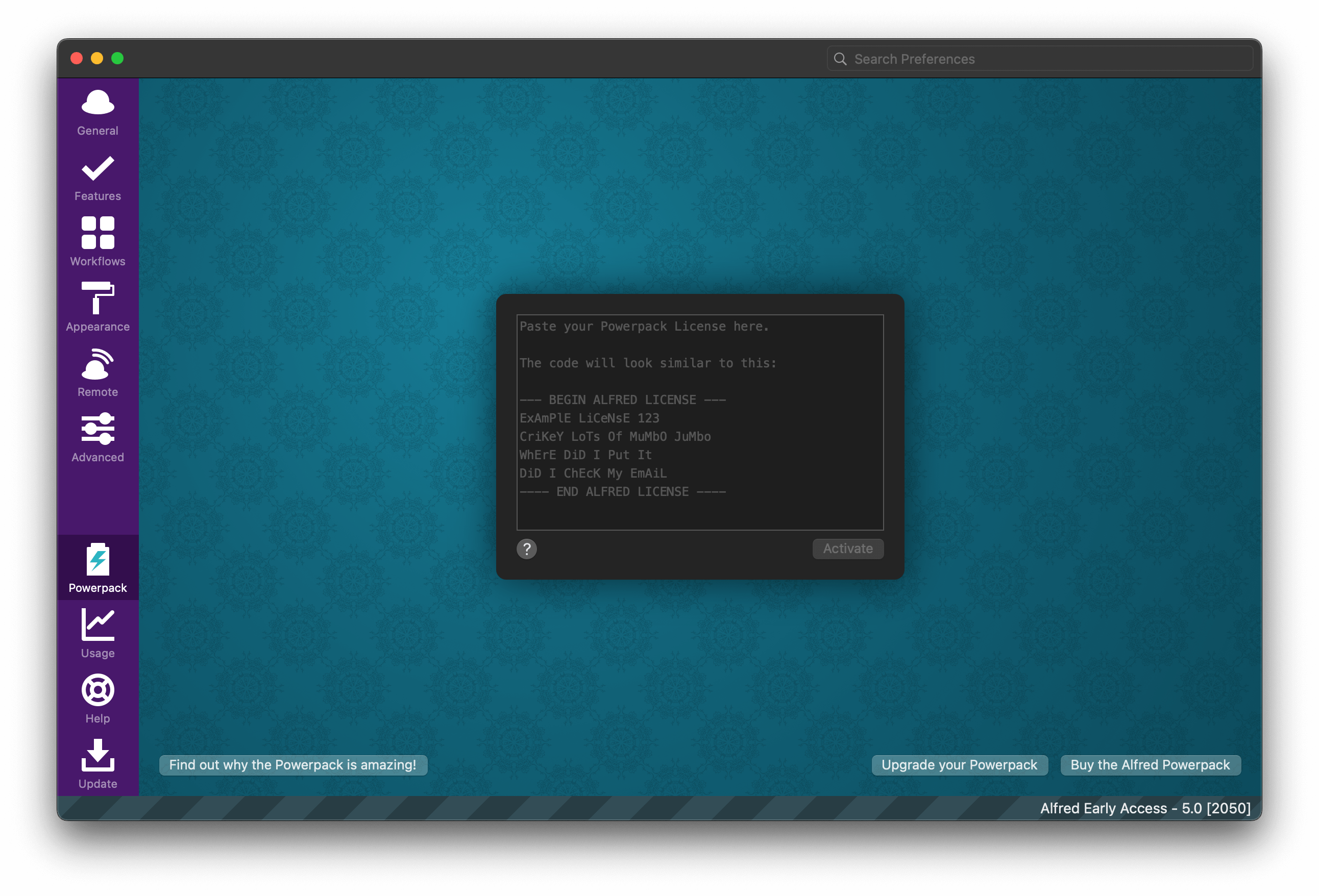 Need to buy a license? You can purchase a new Powerpack license or upgrade your existing Powerpack license.
---
Getting started with the Powerpack features
Congratulations, you're now a Powerpack user! To learn how to make the most of the advanced functionality you've unlocked, take a look at the Features section of the website. :)
There, you'll discover how you can use the many Powerpack-only features like File Navigation, Clipboard History, Contacts Viewer, iTunes Mini Player, custom Theming and, most exciting of all, Workflows.
You'll also find Guides and Tutorials on searching more efficiently, setting up workflows and being more productive at your Mac.
---
Powerpack License FAQ
How can I recover my license?
It's easy, just contact us to recover your license and we'll reissue your details by email as quickly as we can.
Do I have an up-to-date Powerpack license code? Can I upgrade?
Alfred 4 was released in May 2019. If you have a Single User or Family license for an earlier version of Alfred, you can upgrade it to an Alfred 4 license at a discount.
If you're a Mega Supporter, you are eligible for a free upgrade; You can request your free upgrade via the upgrade page by entering your previous license details.
Look for an email containing "Alfred Powerpack" in the subject line. If you can't find your license, contact us on from your registered Powerpack email address.
Alfred tells me my license is invalid, incomplete or it can't connect to the activation server
Ensure that you are using your valid Alfred 4 license and not an older license. You need to use the email address associated with your Powerpack license, as well as all four lines of your license code. Check your spelling for your email address, and ensure you've copied the full license code.
Take a look at the Powerpack Activation Troubleshooting page for solutions for specific error messages.
If you continue to have difficulties, contact us on from your registered Powerpack email address and we'll be happy to help you.