Snippet Collections
Collections help you organise and manage your Alfred snippets; Group them by type or purpose, making it easier to split your work snippets from your emoji collection, for example.
Create a new collection by click the [+] symbol at the bottom of the Collection column; Set a collection name and, optionally, an icon that will help you recognise the snippets when popping up the Snippets Viewer.
To edit a collection, right-click the one you want to edit and choose "Edit..." or simply double-click the collection name.
Setting a Collection Prefix or Suffix
Snippets can have their own collection-wide affix; This is a prefix at the beginning and/or a suffix at the end of any keyword in this collection.
In the example below, I've set the affix to a single exclamation mark. This means that when I set a keyword to owl in the individual snippet configuration, the snippet I'll need to type is the exclamation mark followed by the keyword; !owl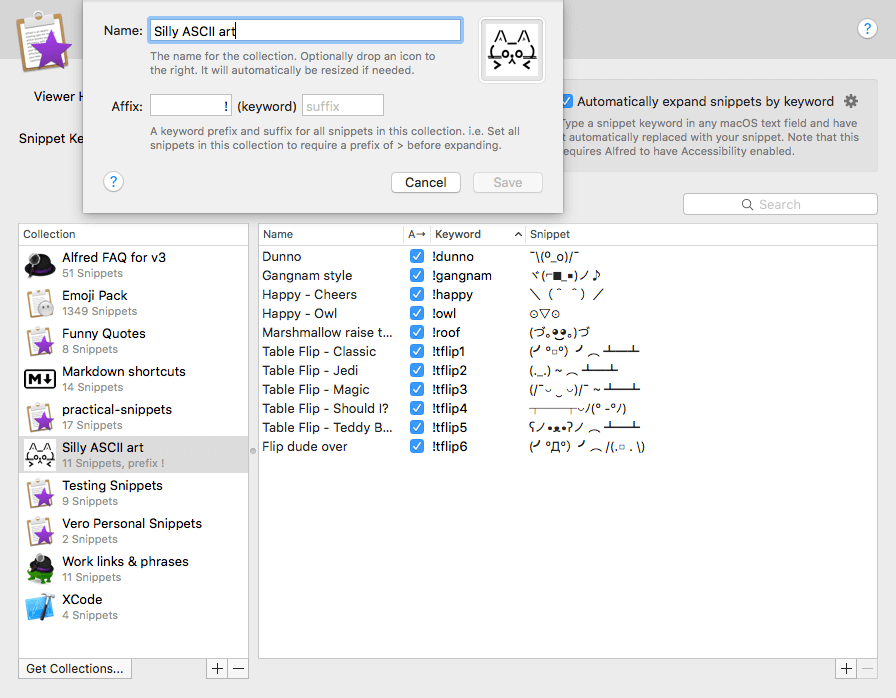 Exporting a Collection
If you want to share a collection with fellow Alfred users or back up your own collection, right-click the collection title and choose "Export...".
Any other Alfred user will then be able to import your snippet collection and save time too!
---
Using your Snippets
Pop by the Snippets feature page to find out more about using snippets and text expansion, as well as Dynamic Placeholders to add dynamically-changing content to your snippets.