File Search
File Search is an essential part of Alfred's search functionality. It allows you to expand your search, navigate your Mac's directories and take action on files you find.
On this Feature page, you'll find out more about:
---
File Search
When you need to expand your search scope beyond the basic file types included in Alfred's Default Results, the File Search keywords are here to help you.
Use the "open" keyword to open a file (or press the spacebar as a shortcut)
Use the "find" keyword to reveal the file in Finder
Use the "in" keyword to search inside your files' content

You can customise these keywords in the Features > File Search preferences.
You can also choose which file types Alfred should not show in the results, and how many results Alfred should present.
If you're a Powerpack user, take a look at File Filters to create custom search filters based on file types or search scope, making your searches even more efficient.
---
Advanced File Search
These file search features are part of the Powerpack.
File Navigation
Use Alfred to navigate through your Mac's file system. This is a great way to quickly make your way through folders without having to use the mouse.
To start, type:
/ (slash) to take you to the root folder on your Mac, or
~ (tilde) to go to your user directory.
From here, start typing the first few characters of the next folder or file you want Alfred to narrow his search to or use the arrow keys to go down to the folder you need.
Not sure of the file name? Add a * (star) to the start of your search term to make it into a wildcard.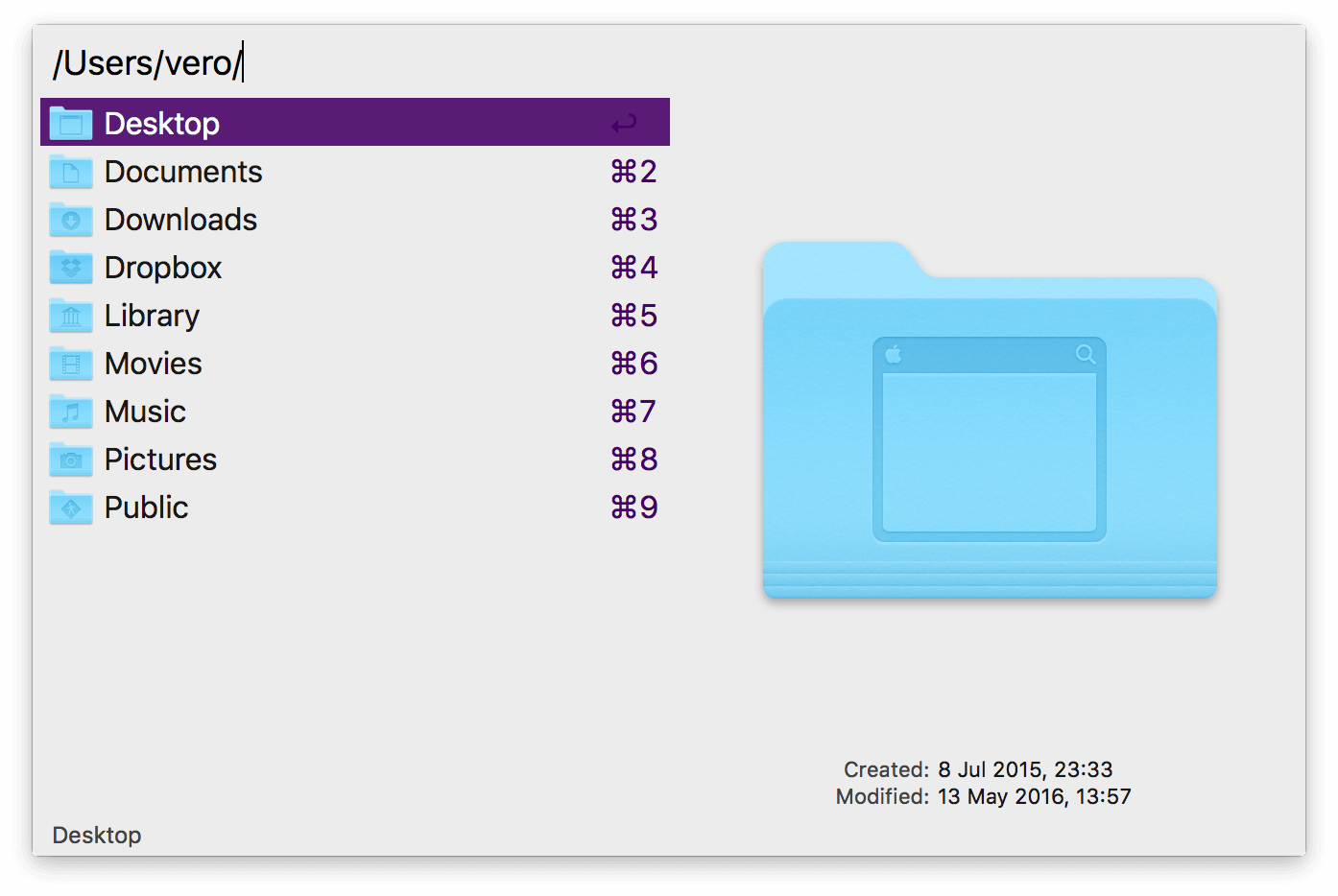 You can tweak which keys are used to navigate through and open folders in File Navigation in the Features > File Search > Navigation preferences.
File Buffer
The File Buffer allows you to select multiple files and add them to a buffer. You can then take action on all of these files at once!
The buffer is controlled by using the ⌥ (Alt) key in combination with the selected file in Alfred's results.
⌥↑ to add a file to the buffer from Alfred's results
⌥↓ to add a file and move to the next item in your list of results
⌥← to remove the last item from the buffer
⌥→ to action all items in the buffer
⌥ backspace to remove all items from the buffer
You can modify some of the preferences in Alfred's Preferences under Features > File Search > Buffer.
Want to take action on multiple files at once? Select them in Finder and press the Finder Selection hotkey (which is ⌥⌘\ by default).
File Previews
Alfred presents you with rich file previews in the Actions panel, as well as when using File Navigation, allowing you to quickly see the contents of your files to identify the right one.
However, if you prefer to turn off rich file previews, either for specific paths or file types, or for all files, you can configure this here.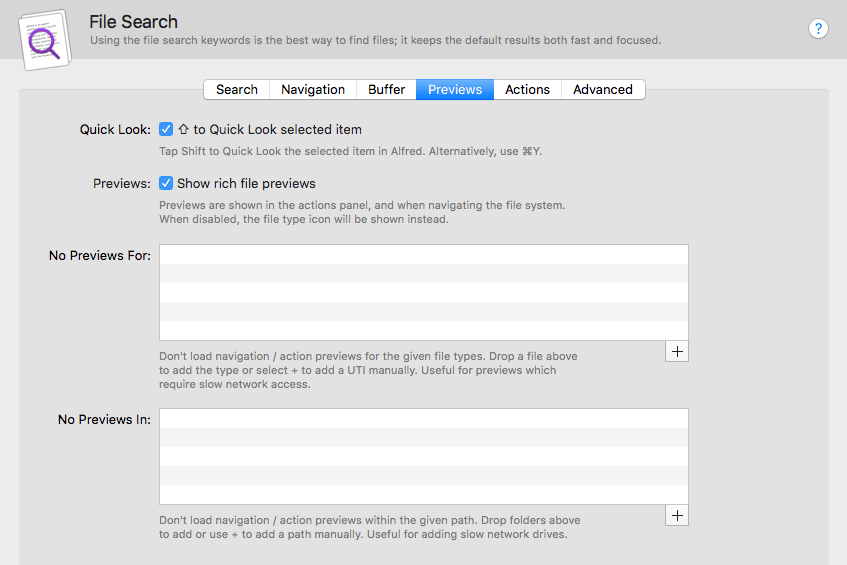 By default, Quick Look and Previews are enabled, but each one can be disabled by unchecking them.
File Actions
Powerpack users can access the Actions panel either by choosing a file in Alfred and pressing the right arrow, or by selecting a file in Finder or another application and using the hotkey below.
You can modify the keys used to show file actions, as well as which actions you want to see in the Features > File Search > Actions preferences.
Want to add your own custom file actions? Take a look at the File Action Triggers for details on how you can create custom file actions (e.g. to upload files automatically to Dropbox or move them to a specific folder).
Recent Documents
The Recent Documents feature helps you locate the files you've opened last in a particular application.
Search for the application you're looking for and press the right arrow to show the list of file actions for your app. You'll then see the list of available file actions for it; Recent Documents will be at the top of the list. Press the Return key to see your latest documents.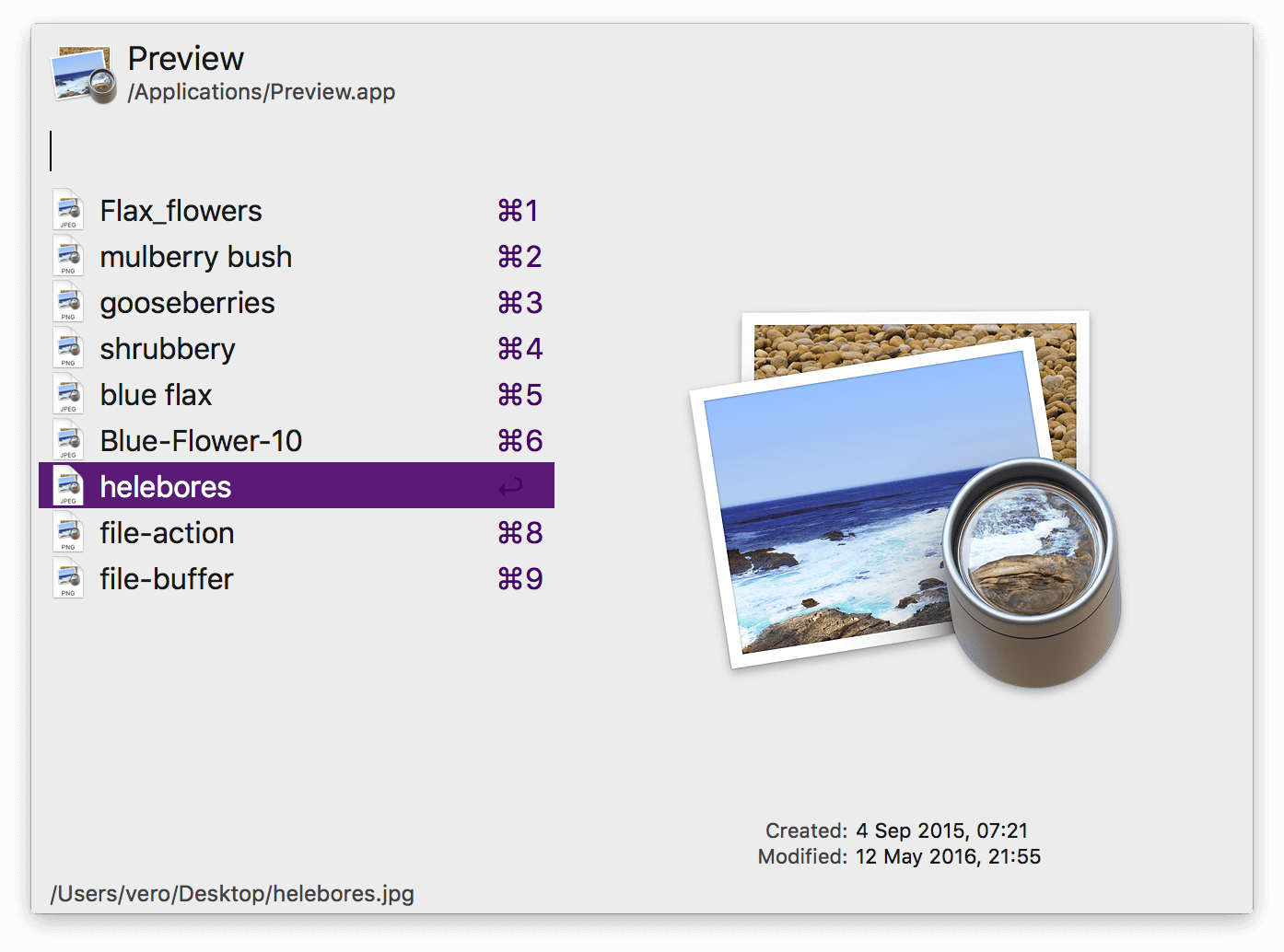 Known issue: this feature is not fully compatible with Microsoft Office and some other non-Cocoa (non-native macOS) applications. In these cases, only files opened with Alfred will appear in results due to the limitation of the third party software.
---
Quick Look
While navigating files, you can quickly preview the contents of a file without launching it by using Alfred's Quick Look feature.
Use the Shift key while browsing Alfred's search results or using file navigation to preview the file. Once you've found the right file, just press the Return key to launch it in its default application.
Alternatively, Powerpack users can press the right arrow to show File Actions and preview the file in-line.
---
Learning more about file search
Want to do even more with file search?
You can also take a look at the Guides and Tutorials for more ways to be productive when searching your Mac.