Transform Utility
This handy utility helps you process the input text and format it to suit your needs, tidying up the data formatting.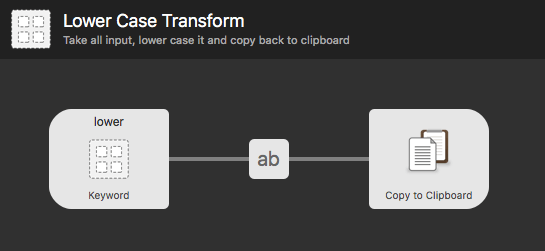 ---
Using the Transform Utility
You could use the transform utility to tidy up lists of URLs, names, or any other data you have that's a little messy.
In the example above, I use a keyword, after which I can paste my clipboard content. The Transform object will lowercase the pasted-in text and return it to my clipboard as lowercase.
You'll find the Transform object under Utilities in your workflows, and you can connect it to any previous object that will pass through input text. In the Transform configuration, choose from the dropdown how you want to process the text:
Trim white space
Upper case
Lower case
Camel case
Reverse string
Strip diacritics
Strip non-alphanumeric
Alternatively, you can use the number in brackets to configure the transform using a config type in JSON.