Alfred 1.0: Big statues, awards and the next release
On November 29th, we released version 1.0 of Alfred. We were so excited to finally make this milestone release available to everyone, yet we couldn't have predicted how much better you would all make December and January for us.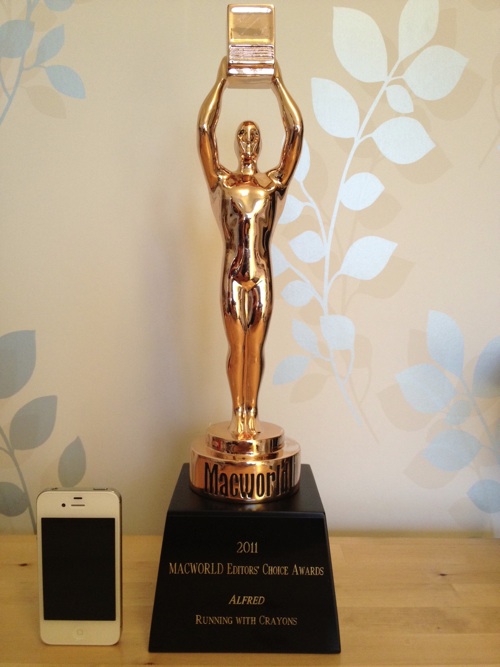 Since the release, Alfred received numerous accolades, including the revered Macworld Editor's Choice Award. As a Mac user since the late 80's, I remember thumbing through my grandfather's Macworld magazines, so being recognised as an "exceptional Mac product" by this mainstay of the Mac industry is an honour. Plus, it comes with a gigantic statue. Who doesn't love a giant statue?
Additionally, a few other publications awarded Alfred recognition as they looked back at 2011:
In addition, at the end of the year, screencaster extraordinaire Don McAllister produced two excellent videos on Alfred's core and Powerpack features. If you're trying to convince a friend to switch to Alfred, this video will walk them through in superbly useful detail.
With these being the cherry on top of our 2011, Christmas was spent sitting on cloud nine and feeling that we truly do have the best community in the world.
Since 2012 started, Alfred also received a mention on Forbes and a PCMag Editor's Choice review. As they say, start the year as you mean to go on! We've saved as many of the mentions as possible in our Delicious account, so have a browse if you're curious. And of course, thanks to everyone who wrote these wonderful pieces.
What now?
Did you really think that now that Alfred has hit 1.0, we'd stop improving this app we love so much? Of course not - you know us too well! :)
Andrew has nearly finished working on version 1.1. As he explains on his Tumblr, it originally was intended to be a 1.0.1 maintenance release, with a few tiny fixes, but it has grown into a full blown release with shiny new features. Expect to see improvements to Contacts integration and Extensions, and see the change log for the full list of changes. As it went into development release today, we hope to roll it out to everyone within the next few weeks.
We also can't wait to unveil the other ideas we've been working on, which we hope to share with you over the course of the year. Until then, keep an eye on Twitter for sneak previews over the coming months!
Cheers,
Vero