Alfred celebrates his first birthday today!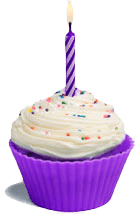 When Andrew and I look back at how much has happened in the past year, since we first released Alfred on a Sunday night while watching the Canada vs USA hockey game during the Olympics, it's hard to believe it's only been a year.
Back then, Alfred did little more than launch web searches and search your local computer. Since then, we've added a vast number of features throughout the year, launched the Powerpack in August and built a wonderful community of users we love.
We wouldn't be where we are without you, so let us tip our bowler hat off to you. Since we can't invite you all over for a big party to celebrate, we are offering a 10% discount on the Powerpack for single user licenses.
To get your discount, use the code BDAYCAKE11 [now expired] in the coupon code field when you proceed to Google Checkout. Act fast as the discount is only valid until Wednesday 2 March 2011 4PM GMT/8AM PST and applies to single user licenses.
Here's to many more years of productivity on our Macs!
Cheers,
Vero