Alfred Is About To Get A Whole Lot Better
In the past number of months, Alfred has been my side project and I have managed to squeeze it into every spare moment I have. This includes writing the software, replying to many support emails, being really active on Twitter and listening to quite a considerable amount of feedback and feature requests. Alfred has had tens of thousands of downloads and we estimate that we have thousands of 'regular' day to day users, which is amazing considering the software is still in beta and has grown entirely from your word of mouth.
I can tell you now that I have LOVED every moment of it to date - The sense of community has been overwhelming and extremely motivating. It has also been good to see that many of the popular feature requests are in our existing long term road map. In other words, you guys have really helped focus what is important.
The future of Alfred
As we approach 1.0 and the end of beta test period, the sense of community and love has made me think long and hard about the best way to make Alfred sustainable into the long term. It has also made me realise that I didn't want to just draw a line and take away what people use daily by making 1.0 a paid-only product.
I want to continue to grow the Alfred user base and its evangelists as much as possible, giving people the choice to support future development. I also want to start taking Alfred more seriously rather than it being just a side project. Therefore today, I am excited to tell you about the future of Alfred (I feel like I should be wearing a black polo neck shirt with a keynote presentation up on a big screen).
Announcing the Alfred Powerpack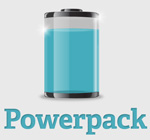 The Powerpack will be a paid set of incredibly powerful new features sitting on top of the stable and robust core of Alfred.
These features will have the same simplicity, speed and usability of Alfred but have much deeper integration into OS X, allowing you to use Alfred for much more than just launching apps and finding files - ALL from quick keyboard actions.
By offering a paid add-on to Alfred, we can keep the core of Alfred FREE and give the choice to you, our wonderful users, to both support the development of Alfred and get WAY more awesomesauce!
Here is a sneak peek just a few Powerpack features I am currently working on:
iTunes mini player / music navigator
File system navigation and file operations
Much better and faster access to Contacts
Much more control over how Alfred looks
An integrated AppleScript studio allowing for easy AppleScript add-ons
The list of features I have planned is actually really rather large and definitely exciting, so you will have to stay tuned. I would also like to make it very clear that the Powerpack will never bloat Alfred or get in the way of people who simply want to use Alfred as a launcher :)
What you can expect in the next few months
The Powerpack is still in the works, I am hoping to start giving early access within 6 weeks.
In the next release you will most likely see a Powerpack tab in the preferences but won't be able to use it yet.
Ollie (@olliekav) has created a new website - it's almost ready and it's gooorgeous!
Basically, continue to use and enjoy Alfred!
... Oh, and one more thing...
When the Powerpack is first made available, it will have a special pre-release price to thank you, the early adopters, for saying such great stuff about Alfred: http://twitter.com/alfredapp/favorites
Note: The people who have already donated to Alfred will be getting a license as soon as they are available.
Sign up for updates
Sign up to our newsletter on alfredapp.com or from the About tab of the Alfred preferences to get announcements and newsletters hot off the press! Also, follow @alfredapp to join our growing community :)
Cheers,
Andrew