Alfred v2 Workflows: A Few of Our Favourites So Far
Since v2 was released nearly three weeks ago, some amazing workflows have been created by Alfred users. In this post, we'll highlight a few of our favourite ones, ranging from simple actions to mindblowingly clever use of scripts and web services.
Don't hesitate to download and install these workflows to see how they've been created, and which objects were used to build them. Soon, we will release a gallery containing these v2 workflows and many more for you to discover and enjoy! :)
You'll need a Powerpack license to use these workflows. If you're new to v2, you can buy a Powerpack license or upgrade your v1 license to get started.
AlfredTweet 2
This workflow is a gem by David Ferguson, who recently joined the Alfred team, providing community support to users in our Alfred forum. Tweeting from Alfred feels like you've acquired superpowers! You can tweet, follow, DM, block, and even tweet what music you're currently listening to.
Download the workflow and, once installed, type "alfredtweet" to set up the workflow with your Twitter credentials.

Amazon Suggest
I use Amazon to buy just about everything we need, so keeping Amazon's search results at hand makes it even quicker for me to impulse buy choose carefully our next video game or book purchase.
No need to download this workflow, as it's available in the in-app Workflow examples. You can find the examples on the Workflows tab by clicking on the + button at the bottom of the sidebar.

Comics
Sneak a peek at your favourite comics directly from Alfred, thanks to Benzi Ahamed. Download the workflow.

Colors
This workflow by Tyler Eich could save designers a lot of time! Convert CSS colours to various formats, and preview the colours within Alfred. Have a look at Tyler's post in the Alfred forum to download the workflow.

Recent Downloads
View a list of your recent downloads in Alfred and press return to open them. A simple but very handy workflow by Dajun Duan. Download it here.

Evernote workflow
If you're a fan of Evernote, as we are, you'll love this workflow by Carlos-Sz. Search your notes by title or tags, create a new note from a text selection, clipboard content or selected file in Finder, and more. Download it here.

And for some eye candy... Top Process workflow
I had to include this one as it's geeky eye candy and makes great use of alternative action modifier keys, which you can see along the lines connecting the objects.
These alternative keys allow you to change the action you get when you hit the return key by holding a modifier key. Download the workflow.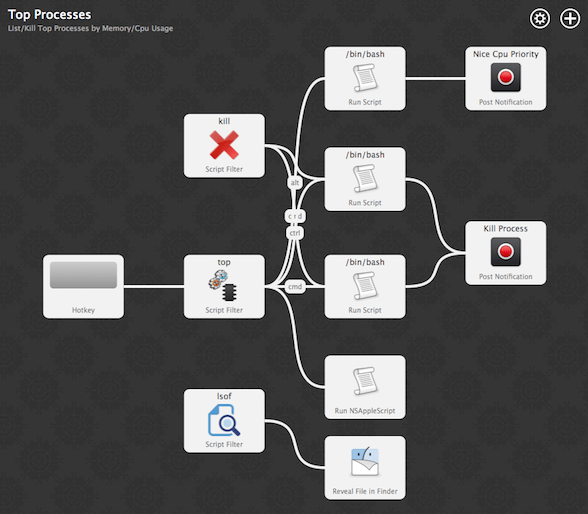 Give me more!
If we've given you a taste for workflows, you'll find out many more on the Alfred forum. If you're creating your own workflows, be sure to join the forum and add them to the "Share your workflows" section, so that others can enjoy using them too :)