Password Protected: Using 1Password with Alfred
Over the past few weeks, we featured a few of the apps we really love using with Alfred. Today, it's an app I simply couldn't live without: 1Password.
Not familiar with it? 1Password is an immensely helpful app in an era where we require passwords for every site we use, yet our memory can only hold so many at once. It allows you to contain all your passwords, credit cards, license codes and secret world takeover plans behind one master password. With a convenient iOS app, a browser plugin on your Mac and Alfred integration, it's quick and effortless to log in to your favourite sites.
The integration with Alfred uses the 1Click Bookmarks to present you with the sites you can log in to when you type "1p" followed by your search term.

Enabling 1Password Bookmarks
There are a few steps to take to get started. Note that you'll need a Powerpack license for Alfred and 1Password installed to use this feature.
The first step is to install the 1Password browser plugin for your favourite web browser.
Enabling integration in 1Password (For 1Password 4 users only)
If you're using 1Password 4 (released October 2013), perform this step. If you're using 1Password 3, jump to the "Enabling 1Password integration in Alfred". Open 1Password's preferences to the Advanced tab and check the box that says "Enable integration with 3rd party apps". This is essential for Alfred to be able to read your 1Password bookmarks.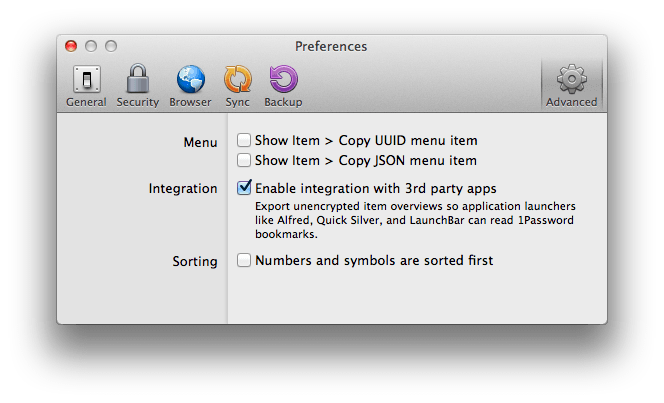 Enabling 1Password integration in Alfred
For users of all versions, in Alfred's Features > 1Password preferences, enable 1Password bookmarks by checking the box. You'll now be able to launch your bookmarks by typing "1p" followed by the name of your bookmark.

See? There's no need for Post-it notes with scribbled passwords, or heads filled with half-forgotten passwords. This is the quickest way to launch and log in to your favourite websites, all while keeping you perfectly secure. :)