Alfred 0.7.1 Brings iTunes Improvements
We've just released the latest update to Alfred, making it (hopefully) even more helpful to you. The big changes have taken place in Alfred's iTunes integration so let's have a look at just how much you can now control your music experience only using the keyboard.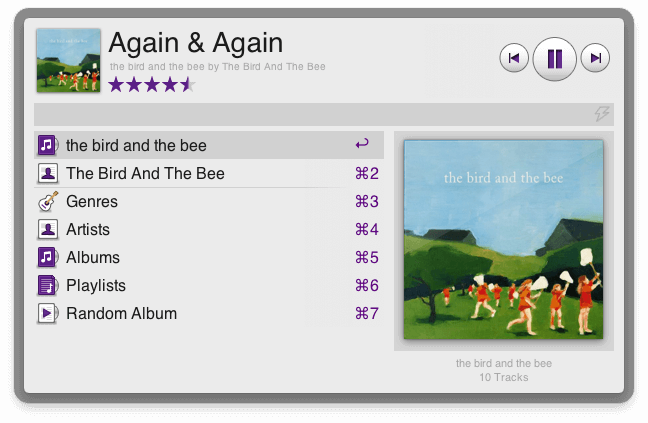 Within the Powerpack's iTunes Mini Player you now can:
browse your music collection by Genre, Artist or Album, navigating as you would within iTunes itself
play music from a Playlist (currently only basic functionality but we'll be working hard to make it better in future releases)
play a Random Album - depending on how adventurous you're feeling, it can be either truly random or you can play a random album from a certain genre or by a certain artist
reindex your music library by clicking on the lightning bolt - this is especially useful if you've recently changed or updated your music collection
use updated shortcuts to get even quicker - the basis for these is always "Alt + Cmd + __". Use down arrow in that space to play/pause a currently playing song, left and right arrows to move to previous and next song, up arrow to play a random album. You can also rate your songs by using "Alt + Cmd + number from 1 to 5".
For a complete list of what's new, you can have a look at the change log.
Like what you're seeing? Our next few releases will focus on user experience improvement rather than completely new features. We'll polish and tidy up the recent features and tweak some of the older, established features. As ever, Alfred is in very active development and there's lots more to come, so hold tight.