Alfred 0.8 - Snippets, Recent Docs and More!
This week, we can't help but feel festive and cheerful. We've been working on bringing you the best treats in our Alfred Xmas Calendar and recently received a treat ourselves when Alfred was featured as one of The Best Mac Software of 2010.
Adding to this, the 0.8 release has been a very strong one; There have been very few reported bugs and feedback from the pre-release users has been fantastic. So we hope you enjoy this pre-Christmas update!
New: Clipboard Snippets
Save your most-used clips as permanent Snippets, and access these through assignable keywords or through the main Clipboard History window. You'll need to enable this Powerpack feature under the Clipboard preferences.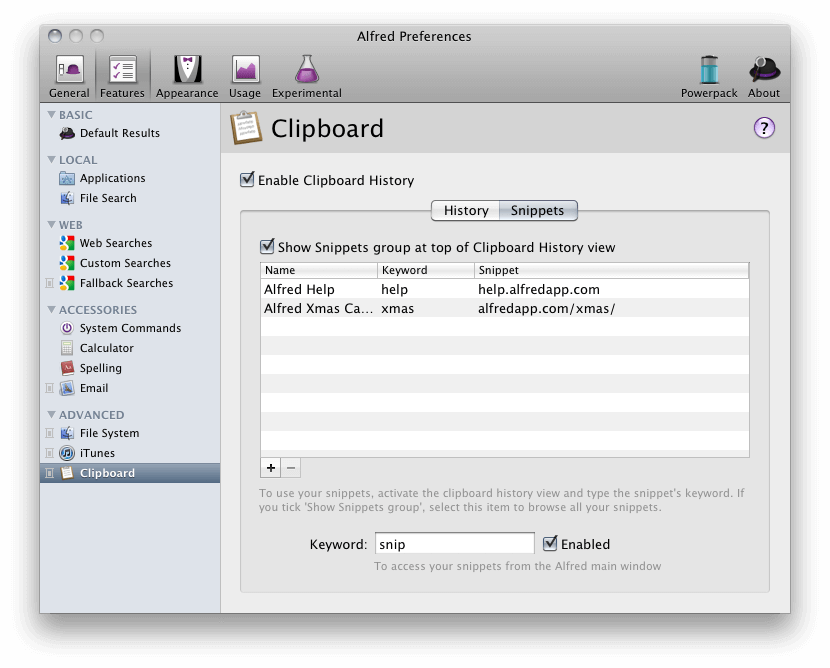 New: 'Eject' command
Under System Commands you can now enable Alfred to 'eject' any mounted drive on your Mac. This is disabled by default so don't forget to go and check the box!
New: Recent documents
You can now show recent documents for your applications. Simply press the right arrow on an app within Alfred and then select the first action "Recent Documents".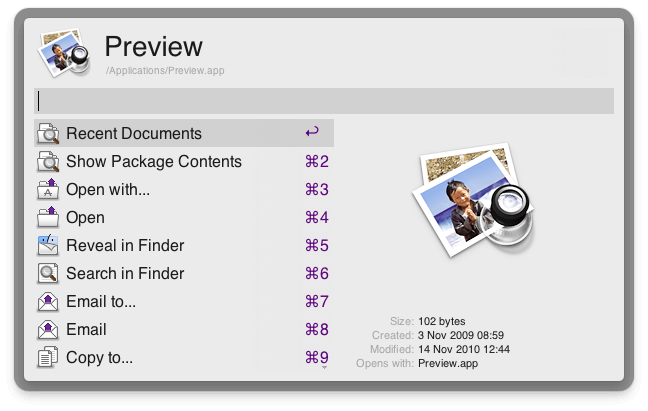 New: Customise fallback searches
You can now customise which web searches Alfred offers when he can't find a suitable local result. Go to Preferences > Features > Fallback Searches. We've added a shortcut to help you work out why Alfred may not be finding a result you were expecting, and both of these features can be hidden by going to the Preferences if you prefer the minimal look.
New: Usage graph
Ever wanted to see just how much you use Alfred? For the stats geeks, we've added in a usage tab and a quick way to share your Alfred statistics with all your friends.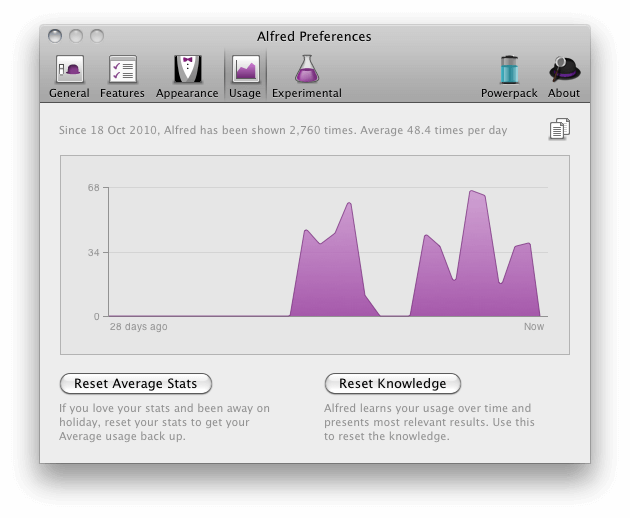 For a complete list of what's new in 0.8, have a look at our updated changelog.
With so many features, don't forget to check out all that the the Alfred Powerpack can do. And remember that it's not too late to look at the Christmas Calendar tips and tricks to become an Alfred power user!