Alfred 1.1 Released: Address Book, Filter Actions & More Improvements
Today, Alfred 1.1 is available on auto-update for non-Mac App Store users with lots of new goodies for you!
This release brings some great feature improvements to Address Book, Hotkeys and Extensions:
In the Address Book contact viewer, take action on contacts' details. For example, dial their number or view their online profiles
Select text in any app & open Alfred to take action on it with a hotkey
Set default actions on filter extensions, like uploading a file to Flickr automatically
Replace existing Powerpack extensions easily when updates are released
Many more improvements and tweaks to make your Alfred experience even better.
Find out more about these features below, or have a look at the change log for the full list of features, improvements and bug fixes.
A Bit More About Address Book
The Address Book integration has received a lot of love and improvement in the latest release. With the Contact Viewer enabled (go to Preferences > Features > Address Book) you can now view notes as well as your messaging and social information for each contact right within Alfred. All this information is within easy reach, just a few keyboard presses away, and not just sitting there idly either because you can take action on what you see.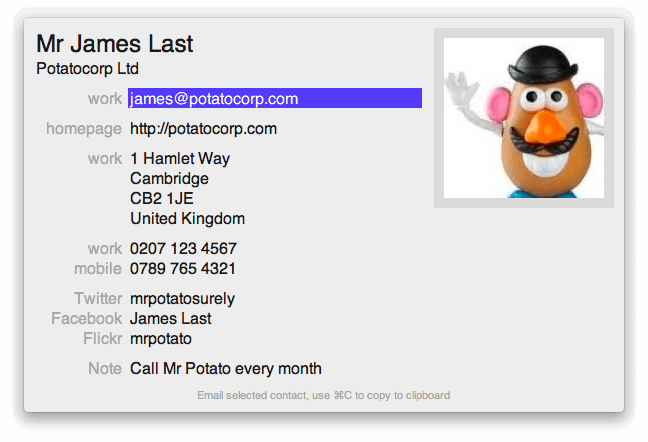 For example, you can ask Alfred to dial the phone number of your contact using Skype, or to pop up their Flickr profile based on their username. This is highly flexible as you can use a URL scheme or extension to do more with your contact's information.
Send Selected Text to Alfred
Got some text you want to take action on in Alfred? You can now create your own global hotkeys to send the text to Alfred. The best bit? You can prefix it with a keyword if you want to save yourself some typing. For example, I've set a hotkey (Cmd + D) to pop up Alfred with the text I've selected and the keyword "define" prefixed.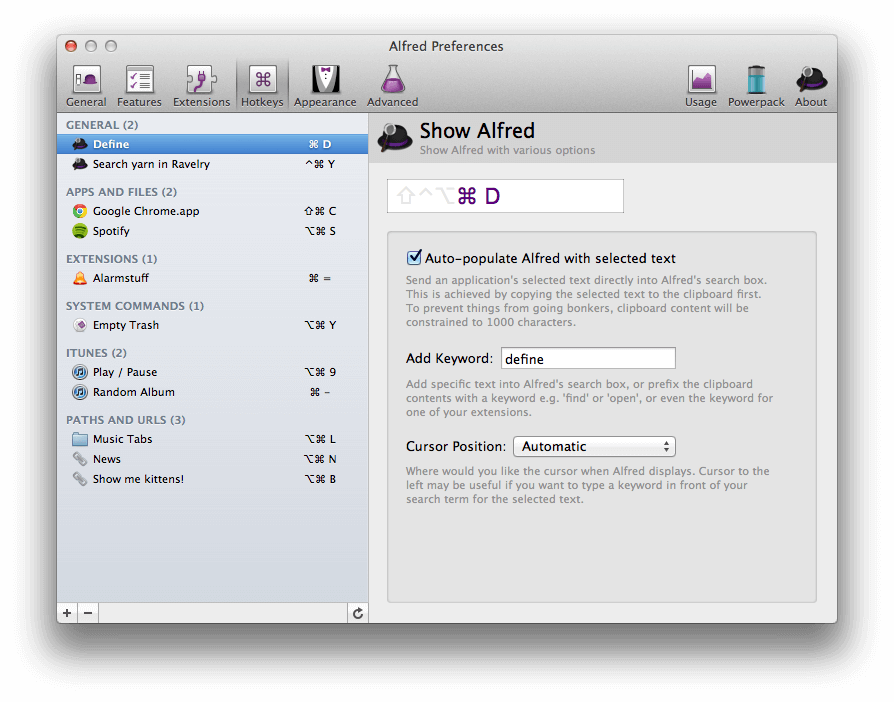 Get creative and use the keyword for your extensions to launch searches for your favourite sites, developer resources and more!
Set Default Actions for Filter Extensions
If you're already familiar with the Filter extensions, you'll know that by setting a filter, you can look for specific file types by using the keyword. And now, you can set a default action for these.
Open the image in Fireworks, upload the video to Vimeo or add the file to your to-do list... It allows you to improve your workflow by using extensions or scripts to set a custom action on the selected files.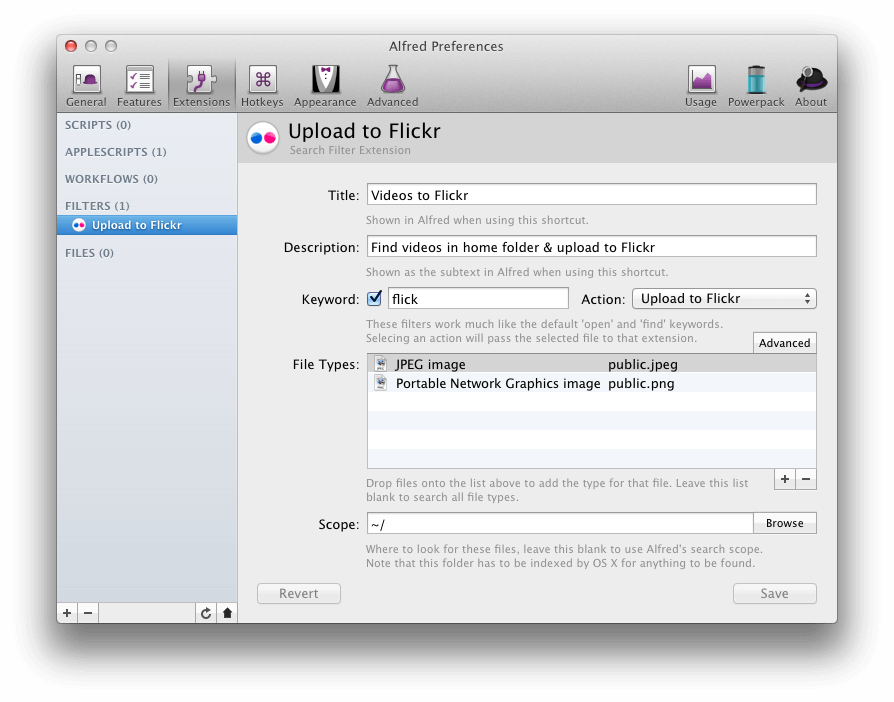 And more...
Check out the full change log for all of the new features, improvements and bug fixes.
What about Mac App Store users?
As version 1.1 primarily consists of changes to the Powerpack, and the current Mac App Store version (1.0) is fully stable, this latest release won't be available in the Mac App Store. You can always download the latest version from our website.
In the next few days, I'll publish some examples of what you can do with both the Address Book and Filter Action features, including some hand-picked extensions you can download to improve your workflow!
Enjoy the latest features :)
Cheers,
Vero