Alfred 2.7 Released: New Remote features, new update notifier and more
Since Alfred Remote was released in late January, you've been creating fantastic Remote pages and workflows. In this new release, we've given lots of love to Alfred Remote and workflows, making some great additions to give you even more room to be creative.
We've highlighted a few of our favourite new features and improvements in this post, or you can take a look at the change log for the full list of changes in 2.7.
New features for Alfred Remote
You can now easily dispatch key combos from your Remote. For example, create a Remote action for global actions like Hide and Minimise so that you no longer have to remember the hotkeys.
Even better, if you use specialist software with complicated or awkward key combos, you can create a whole page for this app's hotkeys!

If you connect your Remote to multiple Macs, we've added the ability to selectively hide pages. As a result, pages you've created to use on your work Mac can be hidden when you connect your Remote to your home Mac, or vice versa. Just right-click the page and choose "Hide from this Mac". From this same menu or by right-clicking on an action, you can also reset any item icons and labels you've changed back to their defaults.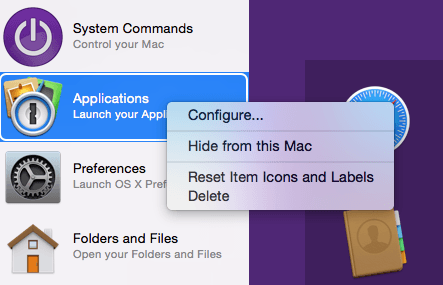 In the list of actions available for Remote, we've added the OS X Preference panels, so that you can get to any of the preferences you need to access quickly.
Workflow improvements
We've made a number of improvements to workflows, making it easier for our wonderful community of workflow creators to bring their ideas to life. Amongst these, we've added flexibility to allow workflow "Run Script" actions and outputs to run concurrently or sequentially, improved reliability for keyboard layout changes and added useful defaults for script queries.
A new update notifier
We've changed Alfred's update notifier so that you no longer get a pop-up on your screen - which was sometimes inconvenient if you were in the middle of a presentation or task, and the timing wasn't right to update.
Now, Alfred will instead show you that an update is available by adding a little tab to the bottom left of your search box. You'll be able to carry on with your work until you're ready to update.

As ever, Alfred remains lightning quick and very lightweight, so once you click the update notification, you'll be up and running with the latest version in three seconds flat!