Alfred Remote Now Available on the iTunes App Store
Today, we're thrilled to announce Alfred Remote for iOS is now available to buy on the iTunes App Store. We've been giving you teasers for a few months, but it's now well and truly here - and it's great fun to use!
What is Alfred Remote?
Alfred Remote is our first iOS application and a much-anticipated counterpart to Alfred on Mac.
Remote is your personal command centre for Alfred 2 for Mac. Your iPhone or iPad now becomes a perfect day-long companion to your Mac, providing you with handy icons on iOS to control many Alfred 2 actions on your Mac.
Replace your hard-to-remember hotkeys and keywords, launch apps, files and websites, control your music, keep useful text snippets at hand and boost your productivity by connecting Remote to your favourite Alfred 2 workflows.
How can I use Remote?
Alfred Remote is a counterpart app for Alfred 2 on Mac, allowing you to control your Mac via pages of useful icons on your iOS device. Alfred 2.6 needs to be running on your Mac, and you'll need to pair your iPhone or iPad as a Remote via Wi-Fi.
Here's a look at some of the Remote actions you can launch from your iOS device.
Launch Applications, Files and Folders
Create pages filled with apps, files, folders, browser bookmarks or System preferences you need most often and create a handy control centre to keep at your fingertips.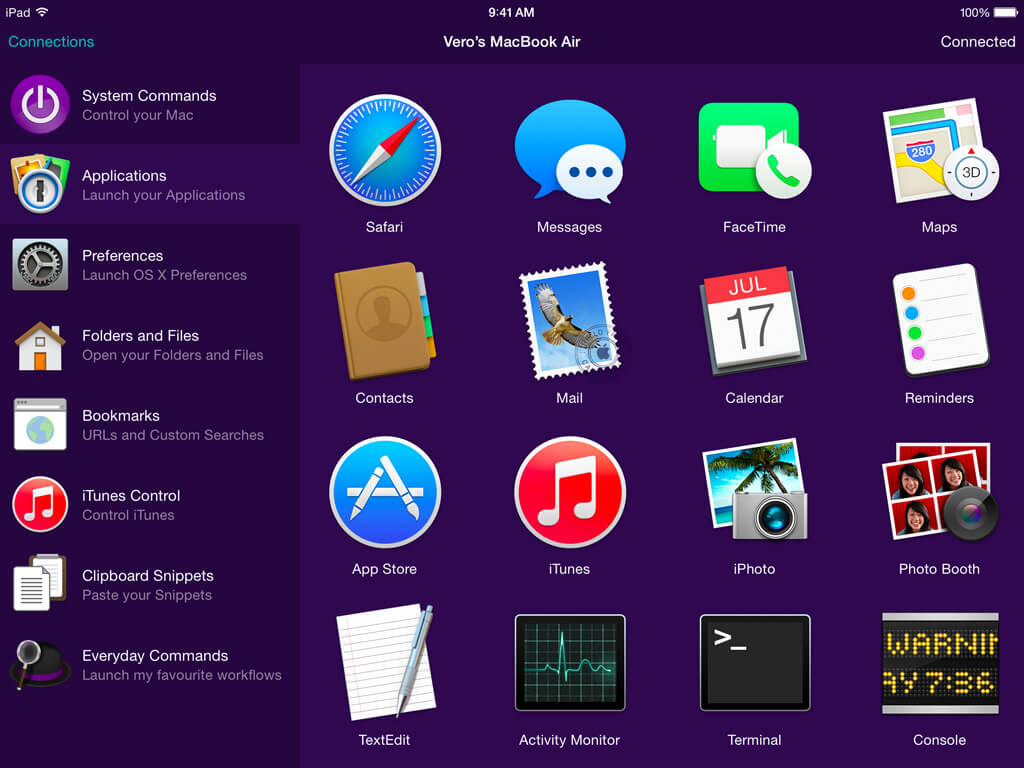 Use System Commands
Stepped away from your Mac and forgot to lock your screen? No problem, do it from Remote.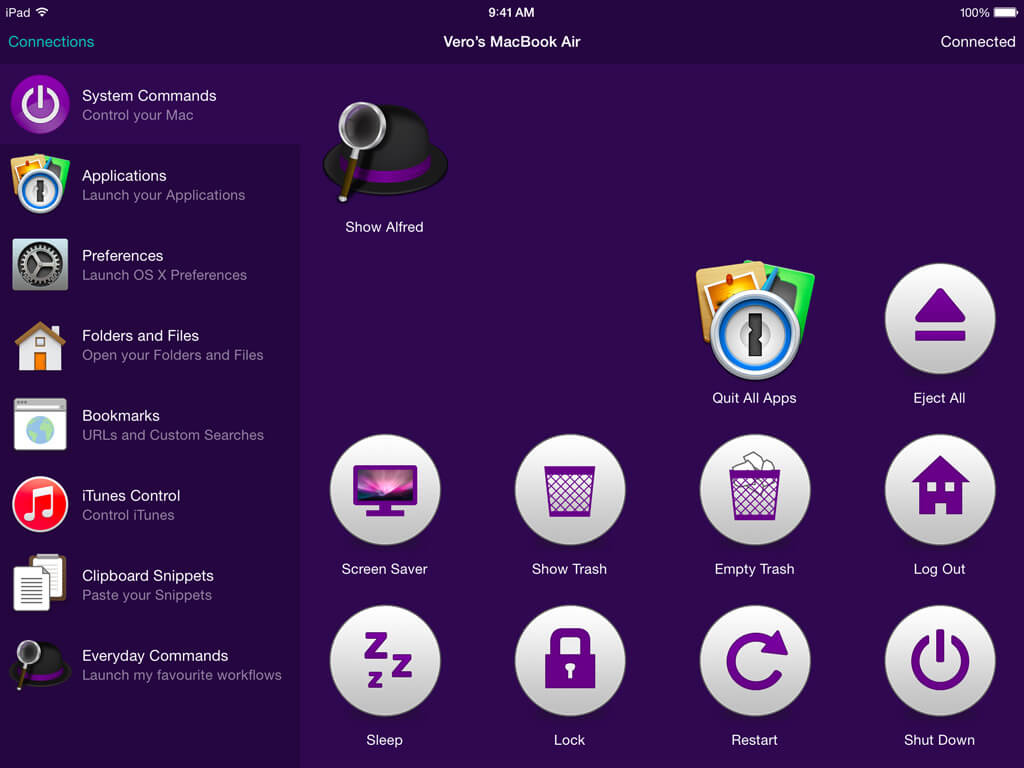 Control iTunes on your Mac
With the Powerpack activated on your Mac, control iTunes. Start a random album to get your day going, and rate those great tracks you'd forgotten about!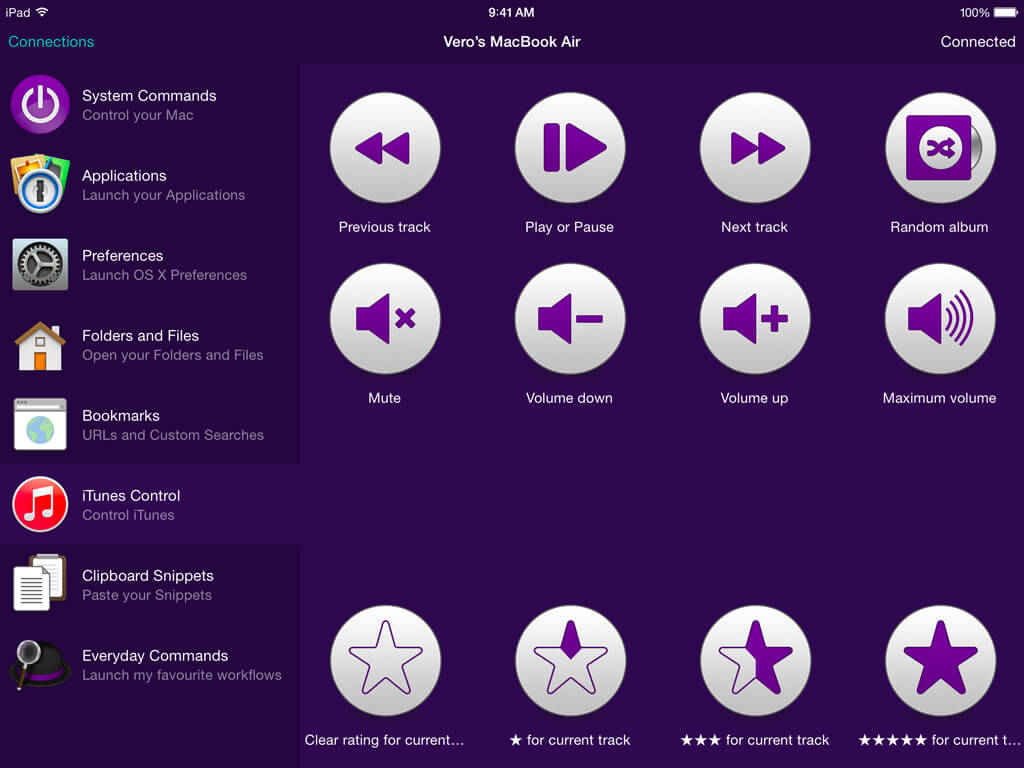 Connect Remote to your workflows
Now this is where things get really fun! Add a "Remote Trigger" to a workflow to allow you to launch it from your Remote. A single tap can launch multiple things; For example the "Morning tasks" action launches all of my essential websites and apps to start the day at once.
Workflow creators can also bundle actions or whole pages of Remote actions with their workflows; We'll be featuring Remote-friendly workflows in the next few days. [Powerpack feature]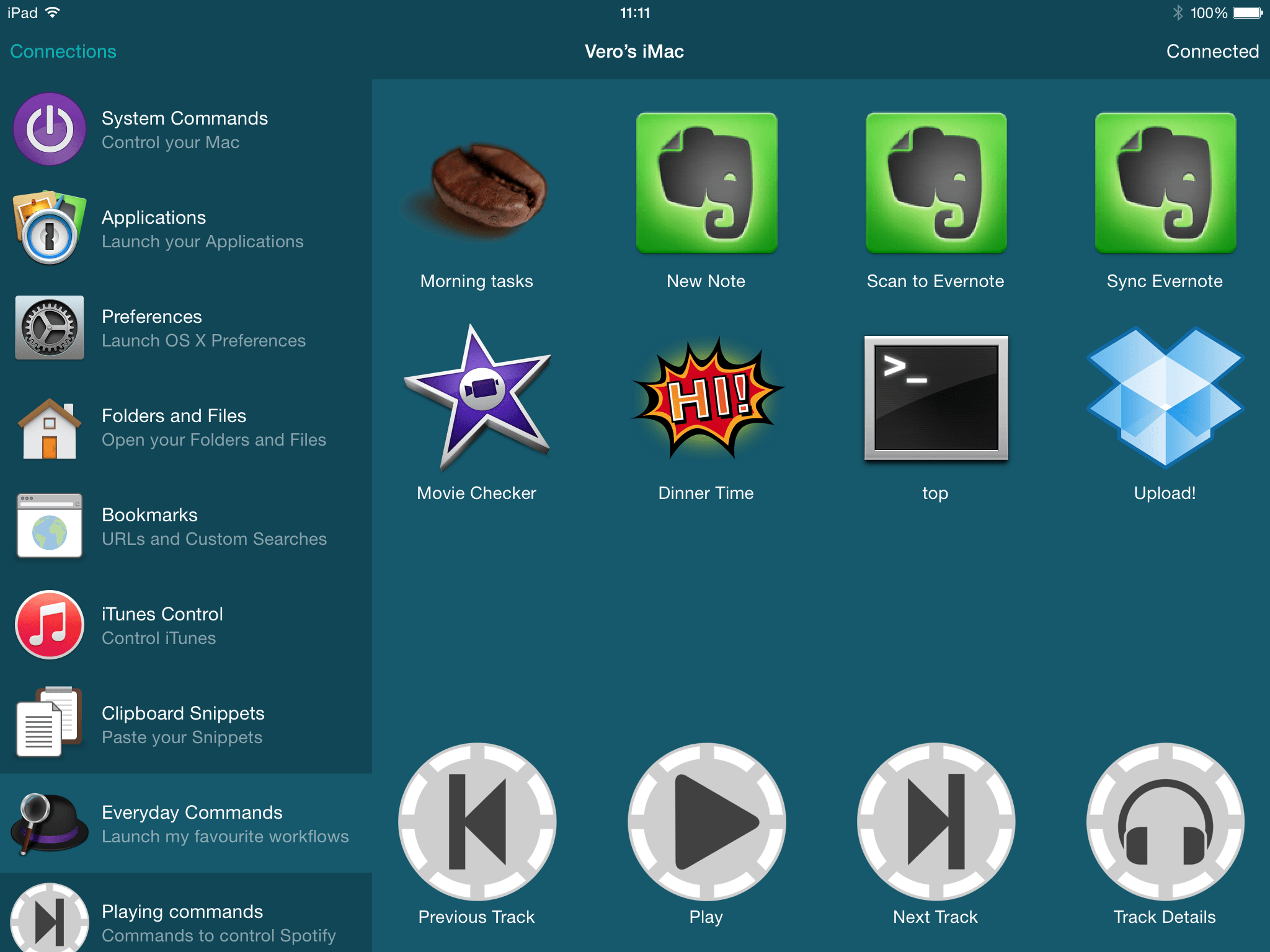 Create Clipboard Snippets
Many Alfred users agree that their clipboard history and snippets have become an essential part of their Mac usage. To make these clipboard snippets even easier to use, create a page of frequently used snippets so that you can simply tap them to paste them to your frontmost application. [Powerpack feature]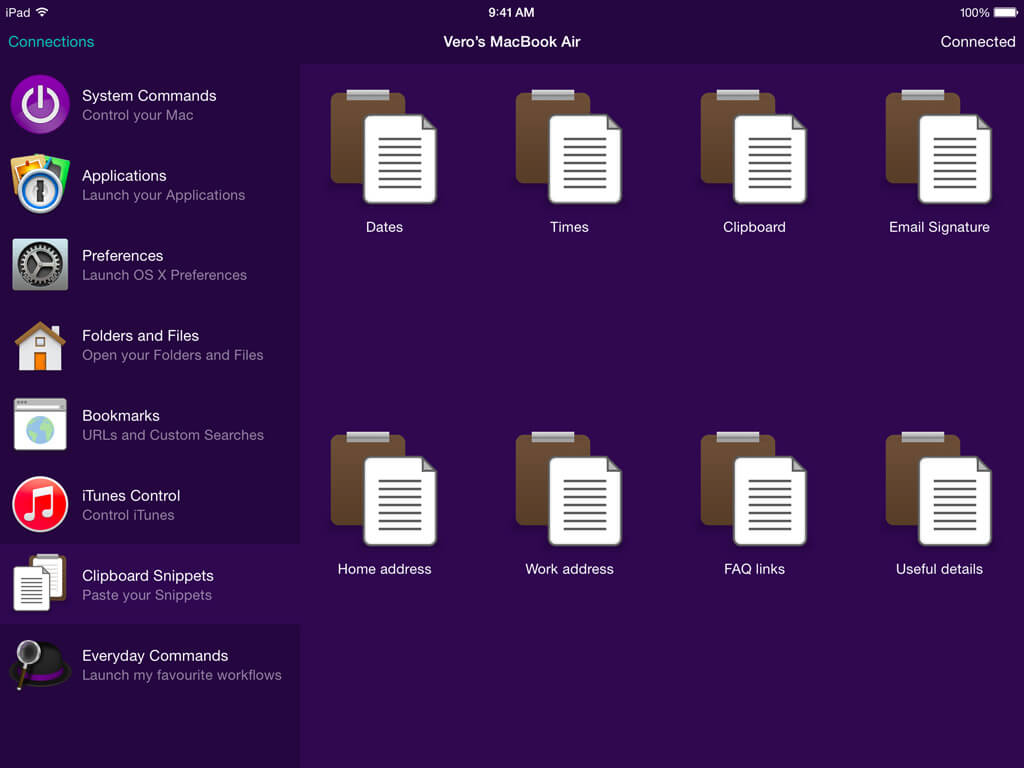 Tell me more!
Over the next few days, we'll be featuring brilliant workflows that already take advantage of Remote; They add so much power and flexibility to your Remote, it's worth featuring them in a separate post or two! (There is a sneak peek of a few icons from Vincent de Saboulin's Spotify Mini Player in my workflows screenshot above!)
You'll find more documentation about the Remote actions on the Alfred Support site, and can chat with fellow users on the Alfred forum.
Over the next few days, we'll also be sharing our ideal Mac setup, including the iPad and iPhone stands we use to prop our devices next to our desk everyday.
Don't forget to help us get the word out about Alfred Remote; If you're enjoying using Remote, please leave a positive review in the iTunes App Store. And of course, if you have any issues and can't resolve them with the Support Site, don't hesitate to get in touch so we can help you out. :)
Cheers,
Vero & Andrew