Alfred v2.2 Released: Workflow Organisation and Debugging
Today's Alfred v2.2 release contains some major improvements to workflows, which will be very enjoyable for both developers and workflow users.
We've added new organisation, filtering and copying options for workflows, so that your growing collection is easier to sort through.  A key feature for workflow developers is also the new debugging options to help them create the best workflows possible.
Of course, the list doesn't end there; v2.2 includes loads of significant improvements to many other areas of Alfred. Fancy reading all of the improvements? The change log contains a detailed list, but we've included a few highlights for you below.
Workflow Debugging
The debugging tool is a new addition to help developers create and improve the awe-inspiring collection of workflows they've made available to fellow Alfred users.
To access debugging, click the bug icon when editing a workflow; Logs will appear as the workflow is used and information can be filtered to show either all information or only the errors and warnings.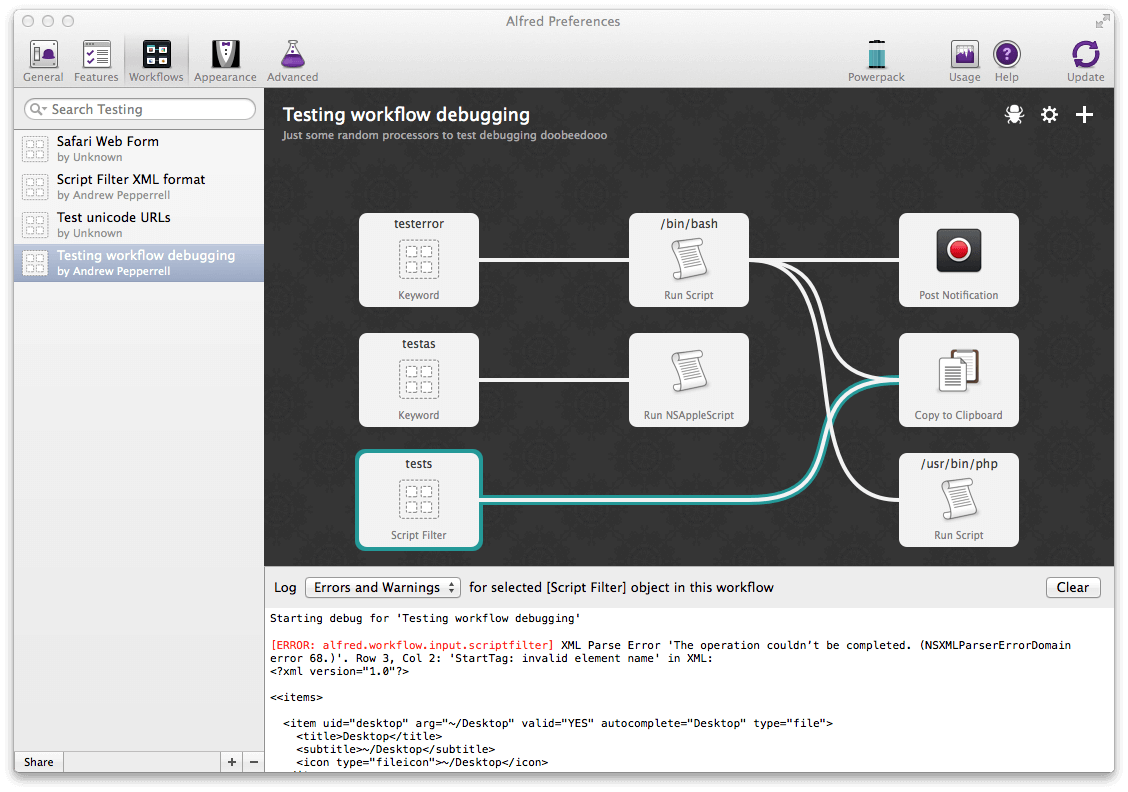 Categorising and Copying Workflows
As we each start collecting an impressive number of workflows, it becomes increasingly useful to categorise them. In this release, you can use the few default categories or create your own, then classify your workflows into "work", "productivity", "music", etc categories and filter down by category. Click on the triangle in the search field of the Workflows search to get started.
We've also made it easier to copy and paste workflow objects from one workflow to another with Cmd + C to copy and Cmd + V to paste. You can also duplicate a whole workflow, if you want to re-use a workflow as a basis to create a new one!
You can update to v2.2 by going to the "Update" tab in Alfred's Preferences or by downloading Alfred from our website. Have a look at the change log for the full list of improvements and fixes in this release.