Alfred v2.3 Released: Context-sensitive hotkeys, external triggers and more
Hot on the heels of the last release, Alfred v2.3 is now available in in-app update or from our website. It contains an abundance of new Powerpack features focused on workflows, including some very handy improvements for those of you who love hotkeys.
Context-sensitive hotkeys
While many of us can't live without Alfred's hotkeys for workflows, these can occasionally clash with hotkeys in other applications. From v2.3, you can now set hotkeys to be active or inactive while particular applications are in focus, to create app-specific hotkeys or disable certain hotkeys while in Photoshop.
With this new feature, you can shake the feeling of running out of hotkeys for good. To set it up, add a hotkey object to your workflow as usual and set your hotkey. Search for the relevant applications in Alfred and drag them from Alfred's results directly into the "Related Apps" tab. Choose whether you want the hotkey to be active when these apps are or aren't in focus, and you're done.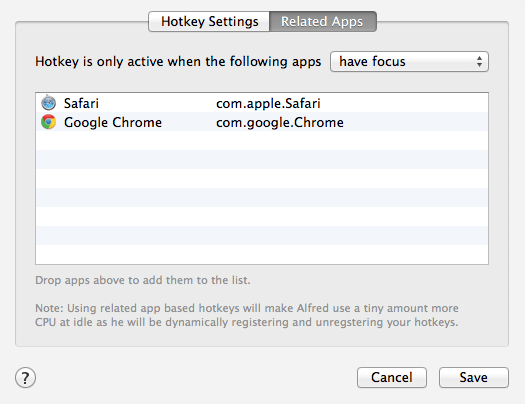 External triggers
You can now use AppleScript from an external source to tell Alfred what to do using the new External Trigger objects.
The possibilities are endless; iCal can execute a script at a particular time or your external app can use this trigger to tell Alfred to display text using the Large Type or Notifications.
Open a set file with a specific app
A simple but very handy addition to the "Open File" workflow object is the ability to select a static file and an application to open it with.
For example, this can be set to open an audio file in a non-default music player or to launch regularly-used reference files in a specific application.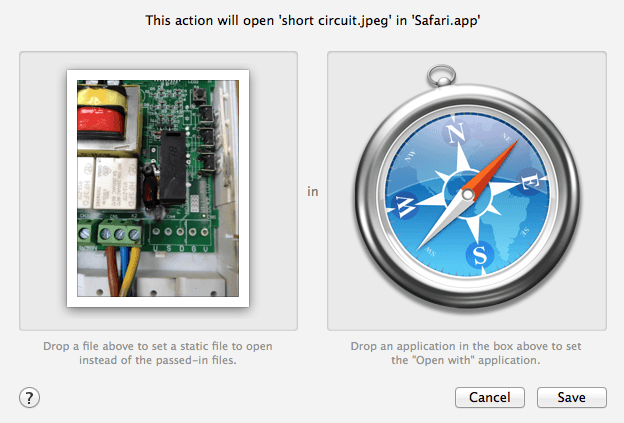 Workflow defaults for creators
With such a wealth of workflows being created, developers can now set their own defaults so that their name, URL, readme and other important information is included every time they create a new workflow!
These are only a few highlights from the many new features, improvements and bug fixes we included in v2.3. Have a look at the change log for the full list.