Release 0.6 Beta Now Available
Last night, we released the 0.6 beta which you can now download from the homepage.
A lot of work has gone into 0.6, from adding new features to optimising what's already there for speed and efficiency. In summary, here are some of the key changes:
Custom searches: Add your own sites to search with Alfred
Optional fuzzy matching on Applications (eg. "thl" would find The Hit List)
Rewritten word matching and relevancy parsing for efficiency, notably reducing CPU usage
Improved default search scopes
Assign ctrl, alt, cmd + enter to action search results
New web searches & locales added
Hotkey improvements including double-tapping Cmd
As usual, the full list of changes is available on the change log.
We've come a long way, baby
Over Twitter, here on the blog and in person, we often get asked "When will Alfred do X? When will this feature be added?" We love hearing your suggestions - along with our development roadmap, they help us shape the future of Alfred and work out which features you really want. It isn't always easy prioritising features, but we hope you're liking the direction the app is taking to date.
For a bit of perspective on how much has changed since the first release - a mere two months ago - here is a screenshot of the preferences when Alfred first came out on 28th February 2010.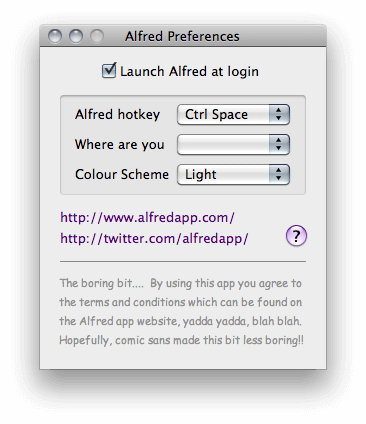 In Alfred 0.4 beta, there were only 3 preferences: Setting your hotkey, choosing from a limited number of locales and a colour theme. We find it hard to believe how much the app has changed and the community grown in little more than 8 weeks!
As we continue to develop Alfred, one of the biggest challenges will be to balance new features requests with the simplicity that makes Alfred unique.
PPC version
We have released an unsupported PowerPC version of Alfred. For PPC users who choose to download it, we recommend turning off the update checker (under General > Updates), as this tracks the Intel version of the app.
We cannot guarantee the stability of this version but first reports point to it being fully functional so, if you're a PPC user, welcome to Alfred!