Release 0.8.2 brings Address Book, Theme Sharing and more
Yesterday, we released Alfred version 0.8.2, which contains more features, improvements and bug fixes than any previous release. We've worked hard to add polish and refinement to the features you already use and love, as well as bring on a few great new features.
New: Address Book integration
This is quickly becoming one of my favourite features! Search and access your Address Book contacts within Alfred, copy their contact details or launch an email addressed to them. Without launching Address Book, access all your local contacts by simply typing their name in Alfred. (You'll need to enable this Powerpack feature in preferences first.)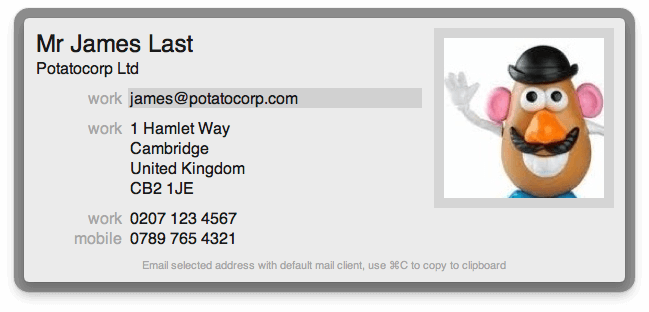 New: Colour theme import and export
Since 0.8.1, Powerpack users can create their own colour themes for Alfred. We've now added import and export to allow you to share your beautiful themes with friends. Themes can be shared as theme files or as alfredapp:// URLs, so it couldn't be any easier to spread the word.
Alfred fan Olivier Guerriat created a site where you can submit your own custom themes and custom searches, so pop by Alfredtips.com and share your best Alfred themes.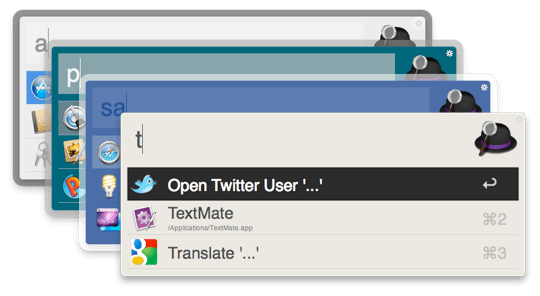 Most of the themes above were created by Yaro Manzarek and can be found on Deviant Art.
New: "In" keyword to search inside files
By now, you'll be an expert at using "find" and "open" to locate files on your Mac, right? The "in" keyword allows you to search inside the files on your Mac.
New: Share custom searches
Share your best custom searches by clicking on the Clipboard icon in your custom search editing box. Click on a URL beginning with alfredapp:// to import new custom searches to your own Alfred, including the search URL, title and keyword.
Visit Olivier's Alfredtips.com to see other users' great ideas for custom searches and contribute your own!
Over 70 changes for 0.8.2
We've added a scrollbar for the find/open/in views where you can see up to 40 results, the option for the iTunes mini player to only play longer albums when playing randomly, an option to make the 'email' keyword launch Gmail with an email for that contacs, as well as loads of new web locales. As this release contains tons of improvements, have a look at the change log for the full list.
Tempted by the Powerpack features? The range of advanced features for Powerpack users is growing with every release, so why not grab your Powerpack and support the Alfred development? :)
Cheers,
Vero