Getting Started with Alfred 4
Alfred 4 is now available, and I'm sure you can't wait to get up and running! Here's a quick guide to getting started with this new version.
Curious about the new features and improvements? You'll find them on the What's New in Alfred 4 page, so if you'd like to see what shiny new features we've added, go take a look!
Where can I download Alfred 4?
Grab the free version of Alfred 4 from the Alfred homepage and install it to get started.
Alfred will walk you through a few optional steps to activate your Powerpack, migrate your existing preferences and grant a few permissions.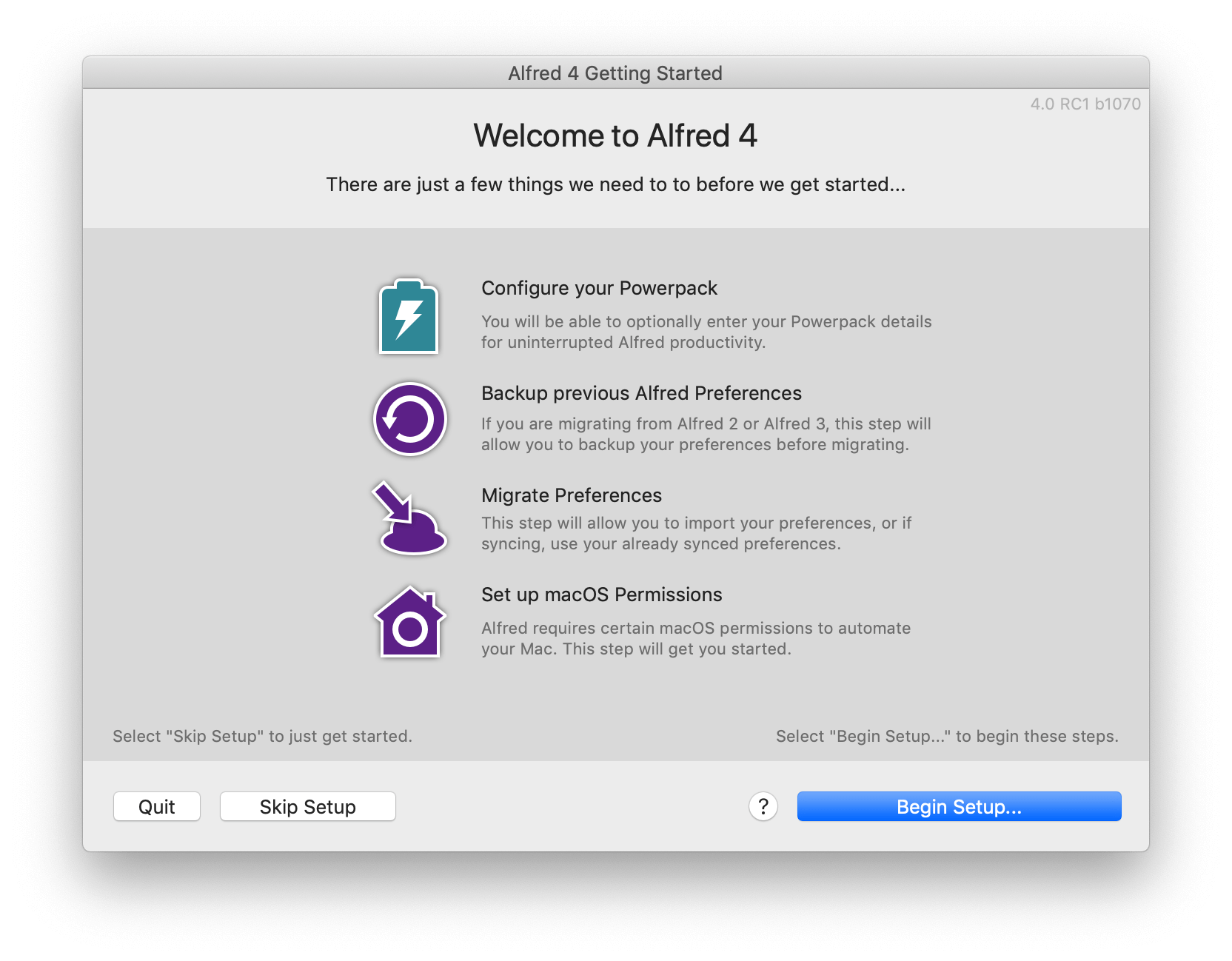 As with all past versions of Alfred, you can use the core features for free, giving you great ways to search your Mac and the web. Of course, Alfred is far more fun once you boost your productivity with the Powerpack features!
How do I activate my Powerpack license?
If you'd like to use the Powerpack features and don't yet have a license, buying a Powerpack license will give you access to numerous great features like workflows, clipboard history, snippets, custom theming, file navigation and more.
If you have a Powerpack license purchased in 2019 or you're a Mega Supporter, you get a free upgrade to Alfred 4. Pop your existing license details in the Upgrade page and you'll be issued your shiny new Alfred 4 license.
If you purchased a Single User or Family license before 2019, you're eligible for a discounted upgrade, so go ahead and upgrade to take advantage of all the wonderful Alfred 4 features.
Once you've got your hands on your Alfred 4 license details, enter them in the Getting Started Assistant when you first launch Alfred 4, or go to the Powerpack tab to add them later.
I need to recover my license, or I'm not sure what license I have.
Please take a good look in your inbox(es) for the subject line "Your Alfred License". If you're unable to locate your details, get in touch from your registered email address, and we'll get back to you as soon as possible. (Please be patient during this busy time, we'll aim to get back to you as soon as we can!)
Let's get started!
Ready to jump in and boost your productivity with the new Alfred 4 features? You can see the full range of features on the What's New in Alfred 4 page.