Search your Browser Bookmarks in Alfred
Alfred includes a brilliant range of features, between the free version and the Powerpack. To help you discover (or re-discover) them, we've created this collection of tips and tricks.
We all squirrel away useful and interesting links in our browser bookmarks, but searching through them can be a hassle. Alfred makes it quick and easy to find just the right one, with Browser Bookmarks integration.

In the results, you'll see the name of the page, the URL and the browser folder in which the bookmark is saved.
Search your Safari and/or Chrome bookmarks, and tell Alfred whether you prefer to include bookmarks in your default results or via a customisable keyword.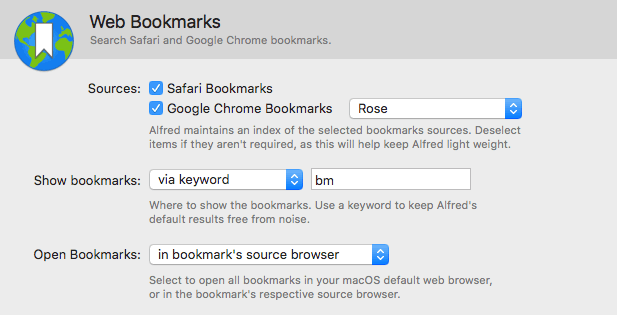 To take advantage of this feature (and many more!), make sure you're using the latest Alfred 3 update. If you're on an older version, you can download Alfred 3 from alfredapp.com. If you're already using Alfred 3, simply update in-app for the latest.
Using macOS Mojave?

If you're on macOS Mojave, be sure to grant Alfred the necessary permissions for bookmarks to be found. These permissions are no different to previous macOS versions, but Mojave is more granular in requesting access.
Don't forget to take a look at past tips & tricks for more Alfred features you may not have discovered yet!