Using the same keyword for multiple actions
Today's tutorial takes a look at how you can create a workflow using the same keyword for multiple actions.
Generally, it's preferable to have unique keywords, so that you can type it, hit the Return key and launch the workflow. However, when you have a set of similar actions to perform that you don't use everyday, it can be a useful way to group them together. Remembering numerous rarely-used keywords can be inconvenient when you have a memory like a sieve!
For example, I use Safari as default browser, but need to view sites that requires Flash in Chrome, so I first set up a workflow that launches the Fitbit website in Chrome. I then added two more actions to launch different pages to log activities and sleep when I've forgotten to wear my wristband. (What did I say about being forgetful?)
As you can see, the keyword brings up four items; Three workflow entries and the Fitbit Connect app. The most frequently used result (the website) appears at the top of the list, but the other actions are also conveniently available for occasional use.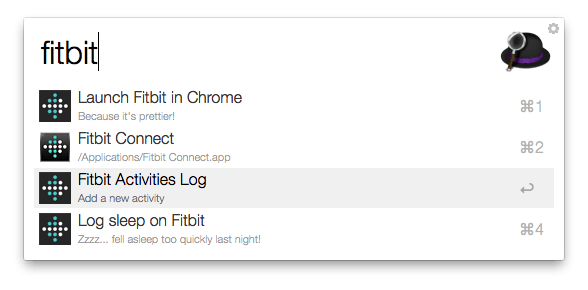 To set up this workflow, I simply connected each action to a separate, but identical keyword. If I had connected the three "Open URL" objects to a single keyword, Alfred would have presented me with a single results, and all three pages would have launched at the same time when I hit Return (which can also be useful, but wasn't the objective here).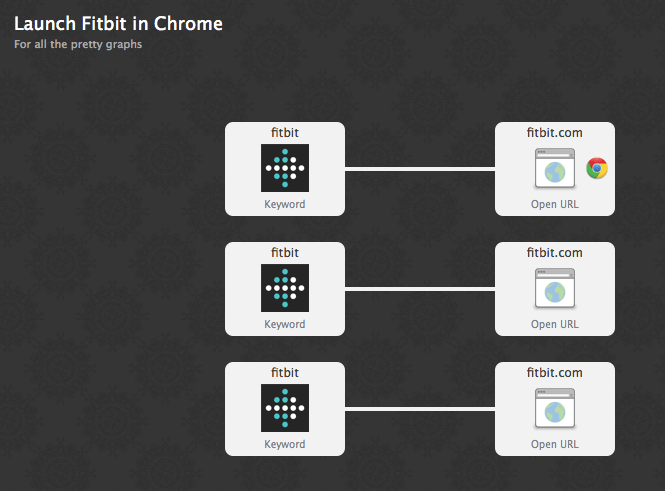 In this case, all keywords except for the Fitbit Connect application are part of the workflow, but you could also use the keyword for a custom search if the website had a searchable documentation section.
Enjoyed this short tutorial? You'll find many more in the Tutorials section of the blog.