Make Noise With the Free Alfred Sound Bank
We've been having so much fun adding the latest feature to Alfred; A new "Play Sound" workflow object. Of course, we had to create some sounds to tickle your ears with!
The Alfred Sound Bank Volume 1 contains 32 sounds created on the Make Noise 0-Coast, and is free to download from our Alfred Labs page - where you might just see other cool projects appear over the coming months! :D
The sounds are 24-bit, 44.1khz aif files, and are free to use under the Creative Commons Attribution-ShareAlike license. This means that you're free to use them in your Alfred workflows, your own apps or anywhere you like, with attribution.
Download the Alfred Sound Bank Volume 1.
How can I use the sounds in Alfred?
In Alfred 3.2.1, which we've just released today, we have added a new Output object to workflows called "Play Sound".
To add a sound to your workflow, add the "Play Sound" Output object to your workflow, and select a sound.
To add one of the new Sound Bank sounds, or your own, click the square button in the configuration and drop the aif or m4a file into this workflow folder. Press the "Refresh" arrow and choose your new sound from the Sound list.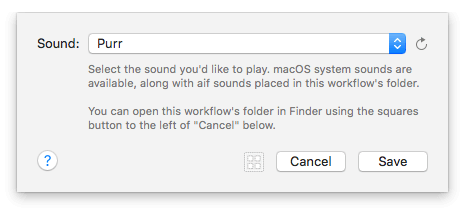 Can I use the sounds in macOS too?
Absolutely! Add the sounds to ~/Library/Sounds/ and when you next launch your Sound System Preferences, you'll see these under the Sound Effects as "Custom", alongside the built-in ones provided by macOS.
If you then want to set one of these sounds for incoming mail in Mail.app for example, you'll launch Mail's General preferences and select the newly added sound for "New messages sound".
We look forward to seeing - and hearing - the latest auditory additions to your workflows. :)