Alfred 0.7.2 Brings Clipboard History
The new release brings a brand new feature - Clipboard History - as well as several marked improvements to features that have already been aiding your productivity. Alfred 0.7.2 will make you faster than ever, helping you reclaim all those lost minutes that you spent trying to re-discover information you had saved to your clipboard just minutes ago. Not anymore!
New: Clipboard History
Text-based storage of items copied to the clipboard
Hotkey access and quickly searchable history
Paste selected history item directly into current app from Alfred
Persistent (including reboot) for a user-defined amount of time (24h/1w/1m)
Easy-to-clear history which ignores user-defined apps (e.g. 1Password & Keychain)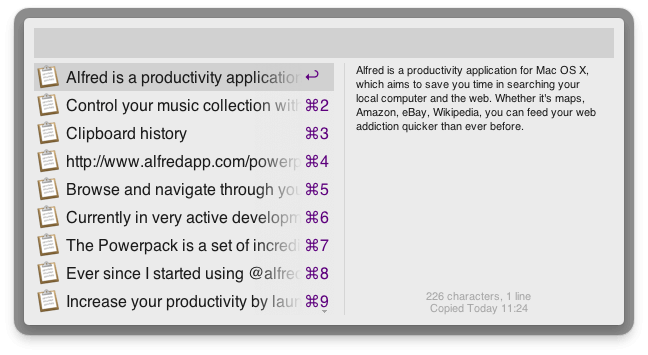 Learn more about using Clipboard History with the Powerpack.
Improved: File System Navigation
New functionality includes:
show last browsed path in File System Navigation
show Result Actions panel for selected item in Finder
the behaviour of Tab has been changed to auto-complete
the Result Actions hotkey is now the right arrow, ctrl or fn (not Tab)
new actions, including Open folder in Terminal.app, Show package contents for applications, Copy path to clipboard
Improved: iTunes Mini Player
ability to 'Play all songs by Artist'
Improved 'random' algorithm for random albums
Overhaul database structure to improve efficiency and performnce
Show Alfred core if using hotkey from iTunes mini player instead of hiding Alfred
Toggle to turn off Alfred using its own Playlist when selecting songs
For a complete list of what's new in 0.7.2, have a look at our updated changelog.
With so many features, don't forget to check out all that the the Alfred Powerpack can do.