Alfred 0.9.9 Brings Extensions & New Free Theme!
Have you dreamed of extending the scope of what our handy little Alfred can do for you?
The just-released Alfred 0.9.9 allows you to access even more of your Mac's capabilities in an easy-to-use environment with the new Extensions tab. Haven't got it yet? Check for updates in Alfred's preferences to get this latest version.
Powerpack users now have the option to:
create their own Command Line Scripts (with Growl output)
launch AppleScripts (with parameters) with a keyword
run Automator workflows
build advanced Search Filters
create keywords for files and file groups
Extensions can be easily installed just by double-clicking on the exported file or dragging them to the Extensions home below. Have a look at the new Extensions page and the first examples by some of our users.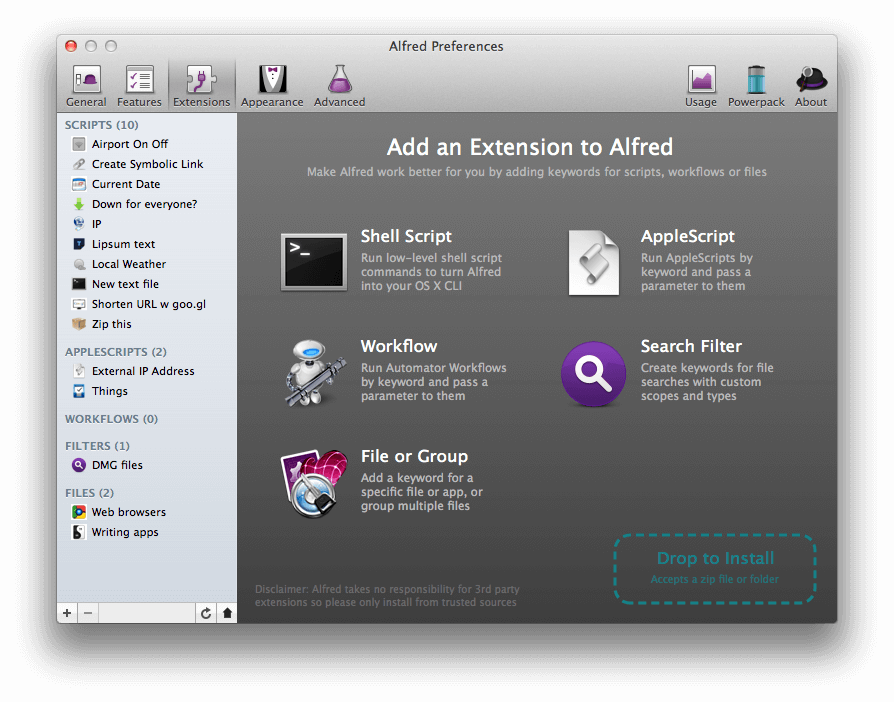 In addition, Alfred 0.9.9 brings many more improvements:
NEW FREE THEME: Lion-based theme available both to free and Powerpack users
Improvements on many Lion quirks
Growl Support for output from extensions and more
Global Hotkey usage added to statistics graph
Address Book Contact's Notes now visible in Contact Card viewer
Improved Knowledge Sorting to better account for extensions [and web searches]
Added 'Get Info' action for files
Make emailing attachments work with Sparrow Lite.app
Improved accuracy for spell and define keywords
Ability to use Open Meta tags when creating search filters & extensions
For a full list of improvements and bug fixes, have a look at the Alfred Changelog. And don't forget that the next release will be 1.0... so grab your Powerpack now to take advantage of the pre-1.0 price!