Alfred 1.2 Released: 1Password Integration, Large Type, New Themes, Clipboard Merge and more!
We've just released Alfred version 1.2, which brings an absolute boatload of new features and improvements.
It's now available to download by checking for updates in the app, from our website or from the Mac App Store. Both the free version and the Powerpack have received a lot of love in this release so read on for the full details of this fantastic release.

Fast access to your 1Password 1Click bookmarks
We couldn't live without 1Password so this new Powerpack integration is a marriage made in heaven!
Enable the 1Password bookmarks import in Alfred's Features preferences, then let Alfred bring up your list of password bookmarks when you type "1p" followed by your search term. Your default browser is launched, and you are logged straight into your 1Password stored site. It's completely safe as your browser still requires your 1Password master password if you aren't already authenticated.
The 1Password team also blogged about 1Click bookmarks in Alfred earlier this week.
Large type with ⌘-L
Whether you plan to use it to view phone numbers on your screen from a distance, share the solution to a maths equation or to tease classmates sitting behind you in class, large type is a useful addition to the Powerpack. Hit Cmd + L to show the typed text as Large Type on your screen.

Two new colour themes
A few weeks ago, we announced that two new themes - Dark & Smooth and Pistachio - will be added to the default themes in Alfred's core (free) version.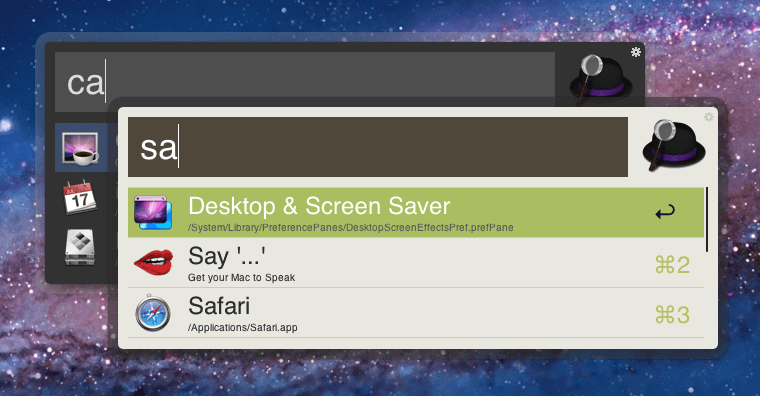 Clipboard Merge
Clipboard Merge allows you to merge a second item with the previously copied clipboard snippet. Once enabled, it's simple to use: Hold ⌘ and press C twice to merge the selected text with the previous history item. You'll hear a sound confirming the snippets have become one!
New hotkeys
We've added a few new handy hotkeys:
New global hotkeys to take action on currently selected text in OS X
New global hotkey option to paste the latest Clipboard History item as plain text without having to show Alfred first
Global hotkeys can be assigned to Snippets for instant pasting, e.g. your favourite email signature
File search overhaul
This may sound like hocus pocus but I can assure you that you'll find that the improved file matching algorithm will help you find your files more easily than before.
If you're curious to see how Andrew has refined file matching, have a look at his Tumblr post outlining what has changed.
A boatload more...
Version 1.2 is a big release in terms of improvements and bug fixes as well, so have a look at the Change Log here for the full list of changes.
Thanks again to everyone who helped us test this release over the past few weeks! :)
Cheers,
Vero