Alfred 5.1.3 Released: Ready for macOS Sonoma
On Tuesday, 26th September, Apple will be releasing macOS Sonoma to the general public. Alfred 5 is stable on Sonoma, so feel free to upgrade to it if you're keen to adopt the new OS early.
There is one known issue; A rendering bug present in Sonoma causes Alfred's main results to sometimes appear in the incorrect location. (This bug has been reported to Apple with a reproducible case as Feedback reference FB13188204.)
It doesn't affect the contents of your Alfred results, only their visual placement. The Clipboard & Snippets, File Navigation, and preferences all render as expected.
Workaround for the Sonoma Rendering Bug
First, ensure you're using Alfred 5.1.3, which includes a few mitigations to work around the visual glitch.
You may only rarely see the issue, and it may not bother you, but if you prefer, you can enable a workaround which you'll find in Alfred's General preferences.
Open Alfred's preferences to the General tab to enable "Default Results Fixed Size" in the Sonoma Rendering Bug box in the top right. This will make Alfred's window a fixed height based on the number of results you've selected for Alfred to show, and therefore won't exhibit the bug.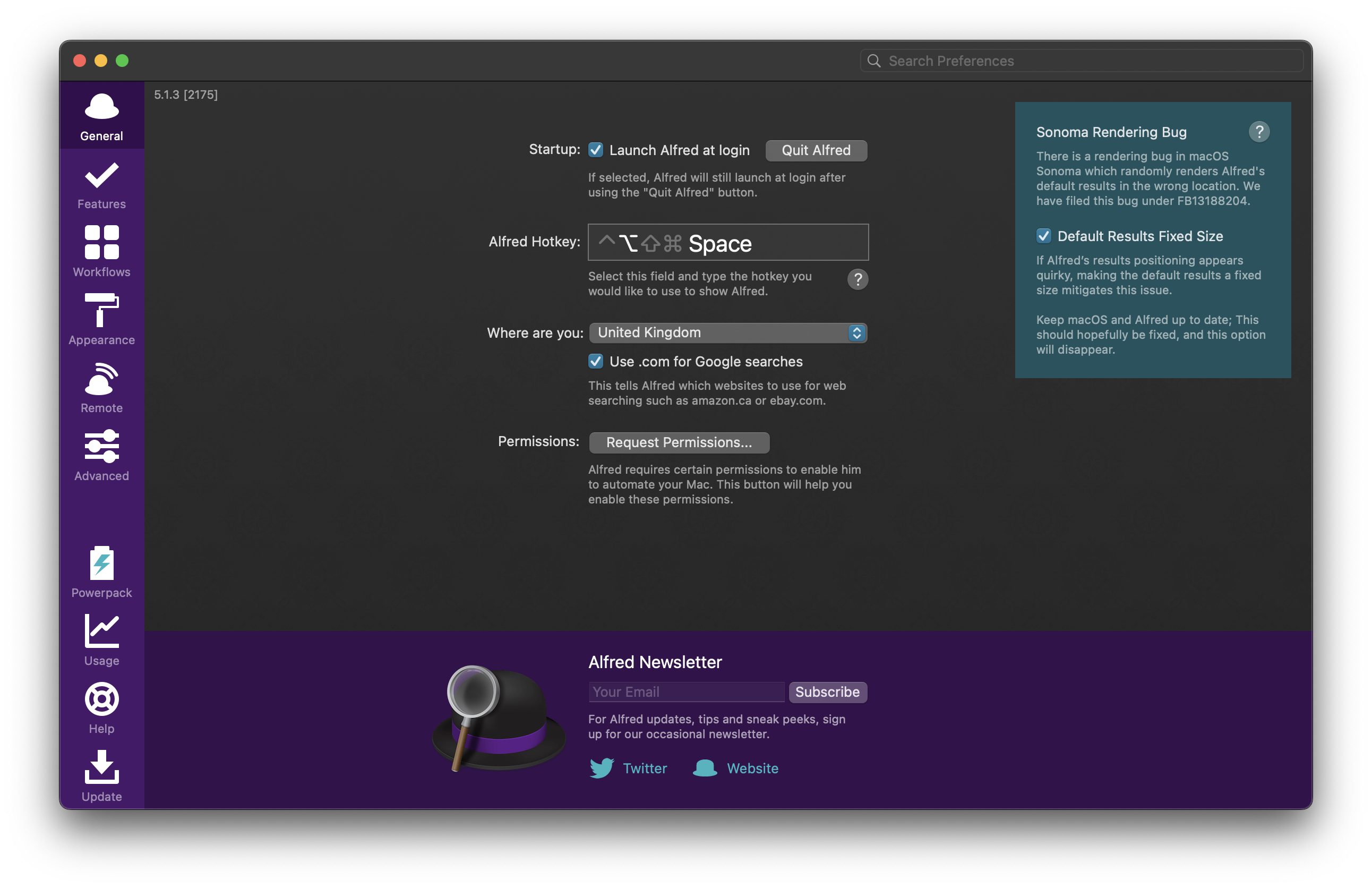 This is a temporary measure, which we'll remove as soon as the issue is fixed.
Update to Alfred 5.1.3 today
You can update to Alfred 5.1.3 from Alfred's Update tab, or download it from alfredapp.com.
We recommend using Alfred 5 with macOS Sonoma, so if you have an older Powerpack license, you can upgrade at a discount. Not yet taking advantage of the great Powerpack features Alfred has to offer? You can get a new Single User or Mega Supporter license to get started!