A Workflow in 2 Minutes: Convert .heic images to .jpg in one keystroke
When we say that you can create an Alfred workflow without code in a matter of minutes, we're not kidding!
I created the first version of this workflow in under two minutes to solve a recurring problem by using 3 workflow objects.
The problem: Apple's default format for iPhone photos is .heic. However, this isn't a universal format and many non-Apple devices and websites don't accept that format.
The solution: Rather than manually opening the .heic photo in Preview and exporting it to .jpg, I used the Automation Task Convert Image Format, which can be found in the Image Manipulation group.

Two minutes, done!
Giving the Workflow Superpowers
I then let my teammate Vítor loose with the workflow... and, in his own words, he got a little carried away. :D
The workflow is now far more powerful and can be configured with:
A keyword
Your preferred folder where images are saved
The option to trash the original HEIC image after conversion
A choice of actions to take after conversion, from 5 possible outcomes including Reveal in Finder, Add to File Buffer, Move to New Location
Convert one file, or multiple files at once. Filter files via Alfred's results with the heicjpg keyword, or use your Universal Actions hotkey. Much more versatile!
Download the HEIC to JPG workflow from the Alfred Gallery.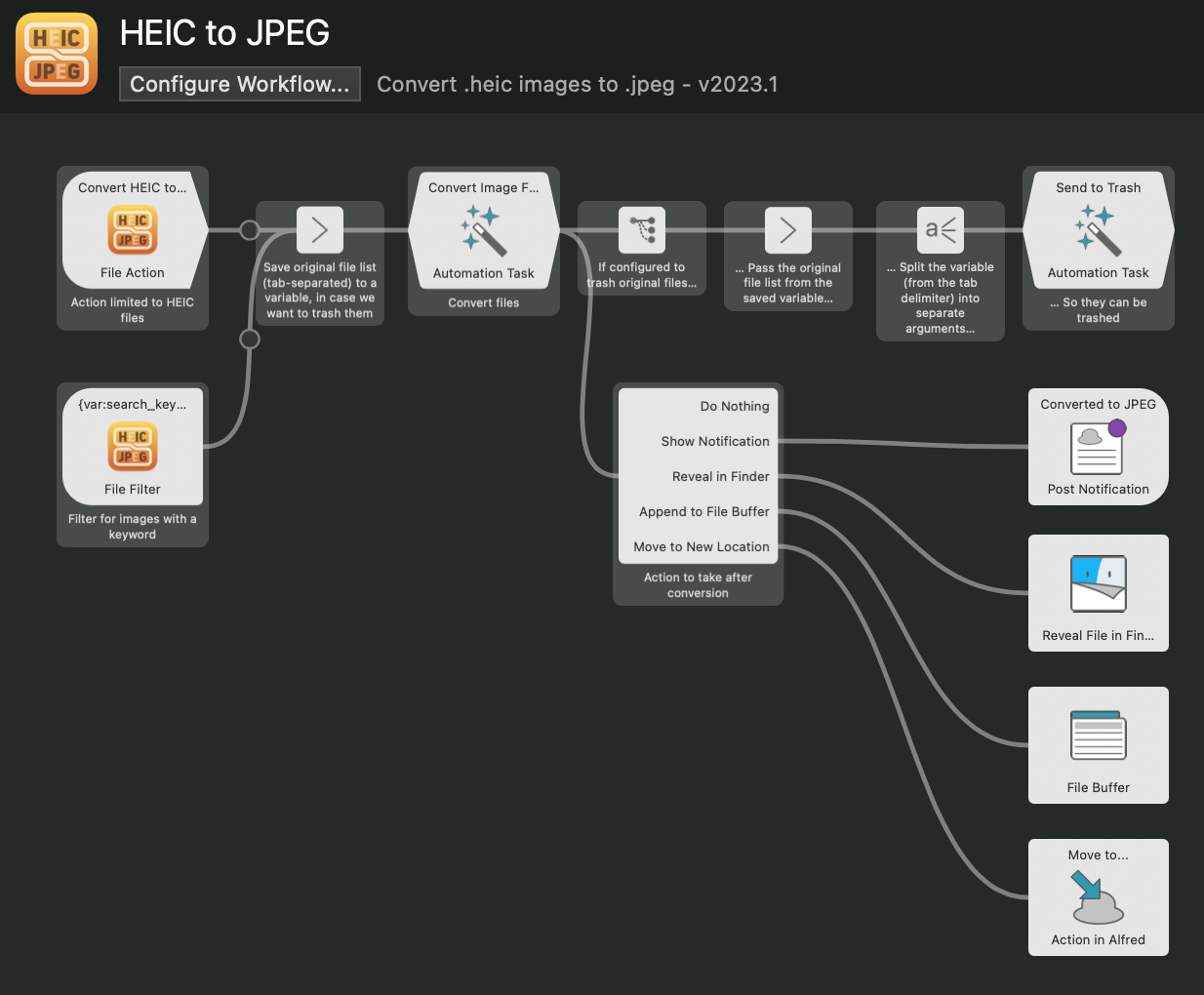 New to Automation Tasks?
If you haven't experimented with Automation Tasks yet, you'll find them in Alfred's Workflows. Add an Automation Task object to your workflow to get started.
If you see "Tasks Not Installed", you'll first need to install them. We recommend checking the box to "Automatically keep Automation Tasks up to date".