Happy 2nd Birthday Alfred: 10% discount on the Powerpack this week!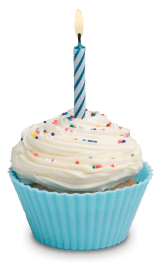 This week, Alfred celebrates his second birthday. And he likes to do it in style!
Hot on the heels of two big releases, we're offering a 10% discount on the Powerpack so if you haven't yet adopted the powerful add-on to Alfred's free version yet, this is your chance. With more useful features than a Swiss Army knife, you're bound to love this addition to your everyday Mac workflow.
If you're already a Powerpack user, be sure to tell your friends to take advantage of this week's birthday discount code while it lasts! You have until Saturday 3rd March to grab a single or family license at 10% discount.
Also, feel free to bake Alfred a birthday cake, cupcakes or cookies. We lo... ahem, I mean, he loves those very much.