Featured Workflow: Compress images with TinyPNG
Every day, members of the Alfred community create and share great workflows. Once in a while, a workflow will appear that's so perfect for my own daily habits that I jump with joy!
The TinyPNG workflow, created by prolific creator CarlosNZ has changed the way I prepare images for blog posts. Every post I write is accompanied by images, which are compressed via TinyPNG to be as lightweight as possible so that they load quickly, no matter the speed of your internet connection.
Instead of laboriously processing each image - which involves a lot of dragging and clicking - the workflow allows you to compress .png and .jpg images via the TinyPNG API with lightning quick efficiency and without lifting a finger off the keyboard.
The workflow simply adds a File Action to Alfred's File Navigation.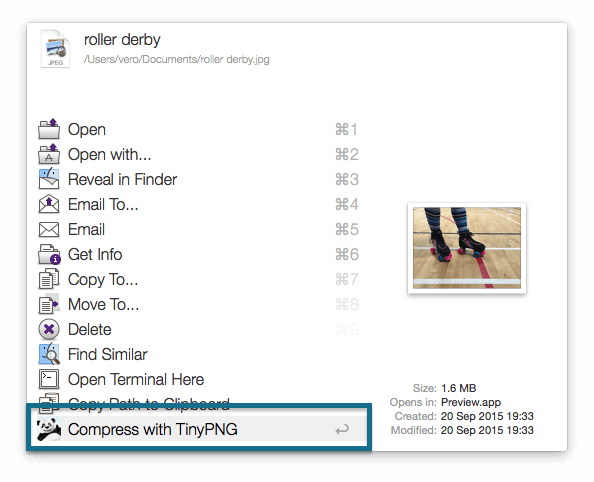 Find your image in Alfred, tap the right arrow and choose "Compress with TinyPNG" as a file action. The workflow does the rest like magic; It uses the API to compress the image and drops the finished version in a folder on your Desktop, ready to use!
Process multiple images at once
Using Alfred's File Buffer feature, you can process multiple images at once. Add them to your buffer using Alt + up arrow, then press Alt + right arrow to take action on all of them at once.

Download the workflow and get your own API key
After you download the workflow from Packal, we highly recommend getting your own API key from TinyPNG, as the API has a limit of 500 files per month.
Type "tinypng_getkey" to request your own API key. Once you get your key, type "tinypng_config" followed by your unique API key to save it into your workflow configuration.
A minute or two to set up, tons of hassle saved when working with images later!