Alfred 3: Getting Started
Alfred 3 is now available for you to download, so here's a guide to getting started with this new version.
We've also published a post highlighting the fantastic new features and improvements to Alfred 3 so if you'd like to find out what's new, go take a look!
Where can I download Alfred 3?
You can download Alfred 3 from our homepage, so grab the free version to get started.
Do I need to upgrade my Powerpack License?
If you'd like to use the Powerpack and don't yet have a license, grab buy a Powerpack license to join in the fun!
If you're an existing Powerpack user, you'll either be eligible for a discounted upgrade to Alfred 3 if you bought a license before 2016, or for a free upgrade (if you're a Mega Supporter or have purchased since 1 January 2016). Eligible Single User and Family license holders who purchased in 2016 will have received an email today containing their new license details.
Enter your license to activate the Powerpack features, or get in touch if you need a hand recovering your license. (Please bear with us during this busy week, we'll respond as quickly as we can!)
Can I import my Alfred 2 preferences?
Yes, as soon as you launch Alfred 3, you'll see the Migration Assistant, allowing you to import your preferences to Alfred 3. We've ensured your upgrade experience is as smooth as possibly, and all your preferences should be migrated.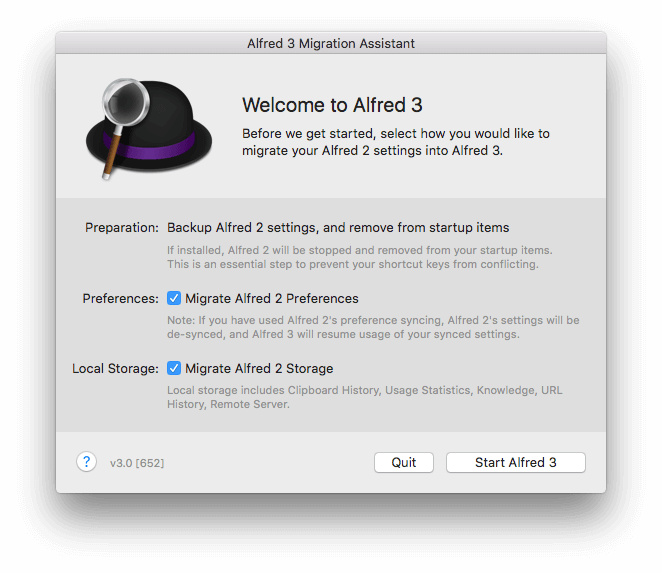 Your workflows will be imported into Alfred 3, and should work perfectly smoothly right away. If you find a workflow that needs an update to work in Alfred 3, you may need to contact the workflow creator or pop a post on the forum.
Please note that we don't recommend using app cleaners to remove Alfred 2 from your Mac, as these apps can be over-zealous and delete files that are also essential to Alfred 3. Once you're confident that all your workflows work smoothly in Alfred 3, you can simply drag Alfred 2 from your Applications folder to Trash.
Take a look at our migration guide if you need help migrating your preferences.
Let's get started!
Time to have some fun with Alfred's new features; Take a look at our post highlighting the new features to jump in.
Between the new workflow objects, the brand new snippet auto-expansion feature, the much improved theming, the multimedia clipboard and more, there's plenty to discover.
We'll be posting guides and tips to make the most of each feature in the next few weeks, so be sure to follow us on Twitter (@alfredapp) and pop by the blog often!