Clipboard History: The Feature You Never Knew You Needed
Alfred's Clipboard History feature is invaluable, allowing you to copy as many items without having to worry whether you've pasted the previous clipboard content. Later on, you can always quickly search back for the link or paragraph you need in the Clipboard Viewer.
The tips below assume that you've already enabled the Clipboard History and Snippets feature; Here's how you can enable them both if you're using these features for the first time:
This is one of the many brilliant features you can unlock by purchasing an Alfred Powerpack license.
1. Browse and search the Clipboard Viewer
You can show the Clipboard Viewer by using the default hotkey combo ⌥⌘C or by typing "clipboard" into Alfred.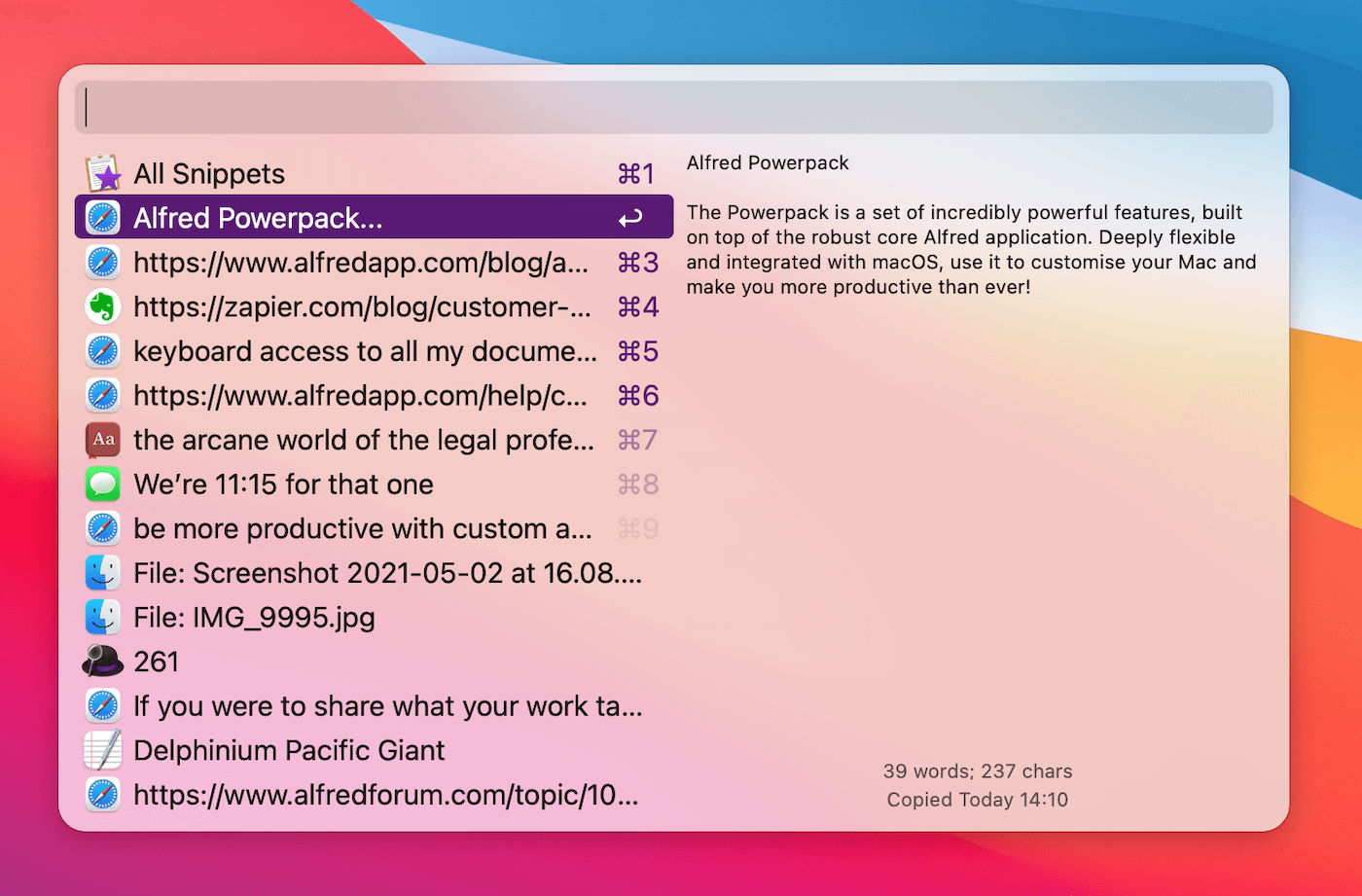 Alfred will show you the most recent items you've copied, with a search bar at the top. Type a word or phrase from the clip you're looking for to filter down to the most relevant results.
Press Return to paste the clip to the frontmost app, or use ⌘C to copy it to your current clipboard.
2. Save your most used clips as snippets
If you notice that you're frequently looking for the same clip, or need to sync certain bits of text across your Macs, use ⌘S in the Clipboard Viewer to save the clip as a snippet.
You can then give it a text expansion keyword, save it in a collection and you're good to go!
3. Clear your history
You can clear unwanted items from your clipboard history either individually or by time period.
Use Fn + backspace on an individual Clipboard History item or type "clear" into Alfred to choose how far back to delete the history.

And finally, what's the most useful thing you can do with Clipboard History? It's telling a friend or colleague so that they can take advantage of this indispensable feature every Mac should have! :)