5 Tips on Searching the Web Efficiently with Alfred
It's easy to search the web using Alfred, with web searches, custom searches, workflows and more. In this post, you'll find 5 ways to the information you want even more efficiently!
Open a URL
To open a URL in your browser, you can paste or type it into Alfred and press return. Alfred will recognise that it's a URL even if you forget to start with http://, and he'll launch the URL in your default browser.
Powerpack users can also choose to store their URL history, so that Alfred suggests possible URLs next time you start typing a previously used URL.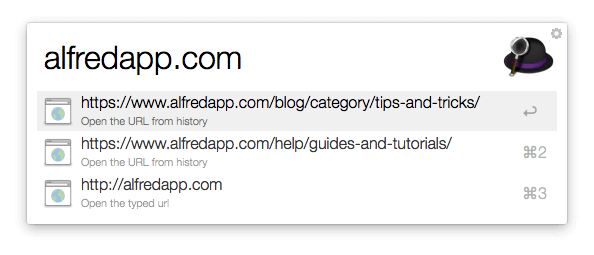 Take a look at your own URL history in the Features > Web Search > URL History preferences or take a look at the URL History feature page.
Create great custom searches
We've included a range of helpful web searches to Alfred, and you've no doubt created a few of your own custom searches. Why not take a look at your most-used ones and see how you can improve them?
For example, I use Google Translate to translate from and to many different languages, so using the keyword "translate" in Alfred results in Google taking its best guess at which language I'm pasting in, and which one I want it to translate to.
Instead of letting Google play Russian roulette, I've added a few custom searches that specify which languages I want Google to use. This particular custom search ensures that Google knows I'm entering a French word and I want the outcome to be in English. Predictable and simple!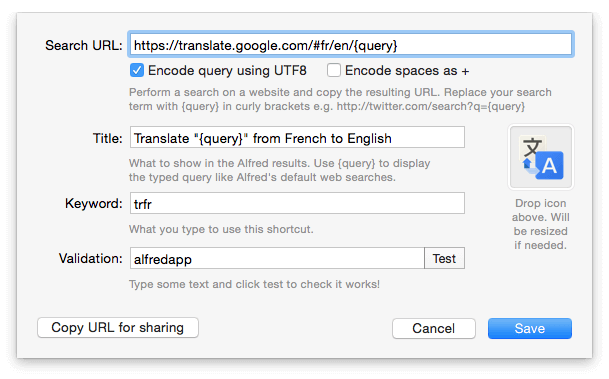 Pick your own fallback searches
If you prefer using an alternative search engine to Google for fallback searches, you can modify your fallback search engines with the Powerpack. For example, many users like to use DuckDuckGo as their top fallback search.
You can set this up in Alfred's Default Results under the "Setup fallback results" button. Find out more about creating your own Fallback searches.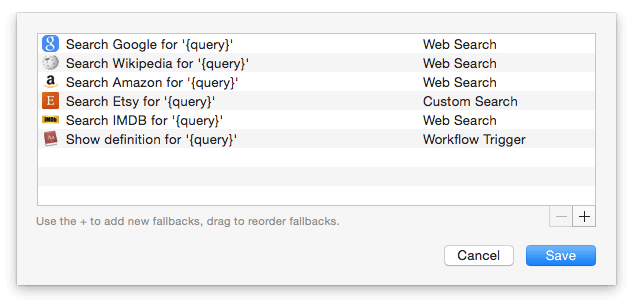 Skip local results, search online
Let's say you want to search for information about the 1Password app on the web, but it's installed on your Mac so when you type "1password" in Alfred, you're presented with the app as a local result. What's the quickest way to search the web instead?
Hold the Ctrl key and press return, which will search using your default web search. The subtext will change to let you know what the action modifier does; you can customise these action modifiers in Alfred's Advanced preferences.

Try out the Google Suggest workflow
Did you know that we include a few example workflows in Alfred to get you started? To add these, launch Alfred's Workflows preferences and click on the + button in the bottom left. You'll see a list that includes "Examples"; Choose any of these to add them to your list of workflows.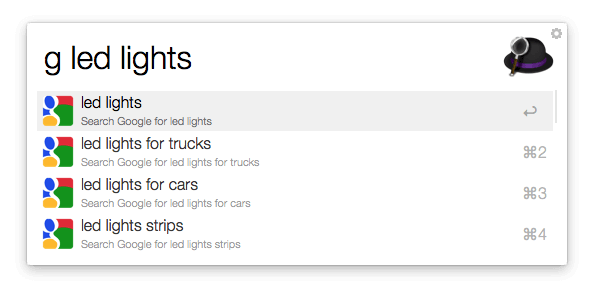 These examples also show you how you can create your own workflows, from simple keyword-based searches and file filters to advanced workflows with in-line results like Google Suggest.
You can also take a look at our favourite workflows for more ideas of what you can achieve with workflows.